Anthony Hammond charged with hate crime for allegedly stabbing black man with machete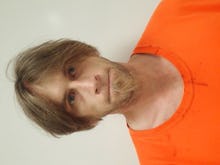 Police in Clearlake, California, have charged 34-year-old Anthony Hammond with a hate crime for allegedly slashing a black neighbor with a machete while yelling racial slurs, the Associated Press wrote on Tuesday.
An unnamed black man was reported to have been "seriously injured" in the Saturday attack, the AP wrote, which took place in a parking lot. Hammond allegedly went back into his apartment and began an "hourslong standoff," and police said he threatened to kill an officer who transported him to jail as well as the officer's family.
In addition to a hate crime, Hammond has been charged with "aggravated mayhem, battery and assault," according to the AP. Further details of the incident were not immediately available.
But tensions have been high following a similar incident in which white supremacist Jeremy Joseph Christian allegedly murdered two men and wounding another who defended a teenage girl in Portland, Oregon, from an Islamophobic assault. Christian allegedly yelled slurs including "get out of his country" and "go back to Saudi Arabia" at 16-year-old Destinee Mangum, who is not Muslim, before murdering 53-year-old Army veteran Rick Best and 23-year-old Reed College grad Taliesin Myrddin Namkai Meche.