Donald Trump tweets garbled message with "covfefe" in it, goes dark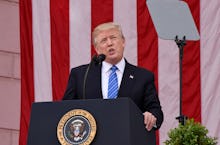 President Donald Trump wrote a bizarre, grammatically incorrect message early Wednesday morning before apparently being cut off mid-tweet, with the odd post remaining on the site for upwards of an hour with no indication as to what had happened.
"Despite the constant negative press covfefe," the president wrote, seemingly caught in the middle of another of his now-common diatribes on the national media.
A timestamp on the message indicated it was posted at 12:06 a.m. Eastern; it remained live as of roughly 1:30 a.m. later in the night. As of roughly that time, there was no indication from official sources what had gone wrong; the White House's social media director, Dan Scavino, had not tweeted since May 29.
However, the Wall Street Journal recently reported Trump was considering letting a White House legal team review all messages posted to his account.
This is a breaking news story and may be updated as more information becomes available. Celeste Katz contributed to this report.