Kabul bombing: More than 80 killed by explosion in Afghan capital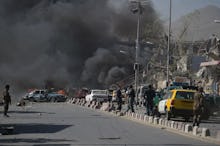 A massive bomb killed more than 80 people and wounded hundreds more in the Afghan capital of Kabul on Wednesday, Reuters reported. 
The bomb, hidden in a vehicle, exploded outside in an area close to diplomatic embassies, just outside of the German Embassy in Kabul. It is not yet clear if the German Embassy was the target of the attack, an Afghan police official told Reuters.
German embassy officials were among those wounded in the blast, CNN reported. In a statement, German Foreign Minister Sigmar Gabriel said that "the attack was aimed at civilians and those who are in Afghanistan to work with the people there for a better future of the country," CNN reported.
The area surrounding the site of the blast is also home to high-ranking Afghan officials and the offices of foreign journalists.
Reports indicate that the bomb was hidden in a service truck of some kind: Reuters reported that the vehicle was a sewage tanker, but according to CNN it was a water delivery truck.
The explosion comes amid the ongoing observance of the holy month of Ramadan, which began on Friday. The blast exploded during Kabul's morning rush hour, as residents were on their way to work.
"It felt like an earthquake," 21-year-old Mohammad Hassan, who was wounded in the explosion, told Reuters. Photos of the aftermath of the attack show a gruesome, chaotic scene. 
The Taliban, which has grown in Afghanistan since 2014 and now either controls or contests 40% of the country, has denied responsibility for the attack, Reuters reported.