Donald Trump calls Kathy Griffin's beheading photo "sick," says she should be "ashamed of herself"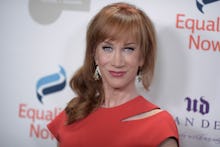 President Donald Trump responded to comedian Kathy Griffin's controversial beheading photo Wednesday morning, saying Griffin "should be ashamed of herself" for what he called a "sick" photo.
"My children, especially my 11-year-old son, Barron, are having a hard time with this," Trump said of the photo, in which Griffin is seen holding a severed and bloody head that resembles Trump.
The image of Griffin holding the severed head was taken by photographer Tyler Shields. It immediately went viral after TMZ posted images from the shoot.
Griffin has already apologized for the photo, saying that she "went way too far."
"I made a mistake, and I was wrong," Griffin added.