Donald Trump defends Carter Page in Russia probe, whom White House officials say Trump has never met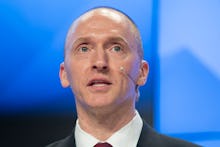 President Donald Trump on Wednesday defended former campaign aide Carter Page, saying in a tweet that Page has information that "blows away" the case about his campaign's alleged collusion with Russia.
"So now it is reported that the Democrats, who have excoriated Carter Page about Russia, don't want him to testify," Trump tweeted, referencing Page's claim that his testimony before the House Intelligence Committee has been postponed. "He blows away their case against him & now wants to clear his name by showing 'the false or misleading testimony by James Comey, John Brennan...' Witch Hunt!"
It's unclear why Trump now says Page could be so crucial to the Congressional investigation into the possible Russian collusion, given that the White House has sought to distance itself from Page.
In April, a source close to the White House and Trump campaign told NBC News that "Page had no official title, was never on staff and was never compensated by the campaign." 
The same source told NBC News that Trump had never even met Page in person.
It's also unclear if Page was ever actually scheduled to testify.
Page claimed in a letter on May 23 that he was scheduled to testify before the House Intelligence Committee on June 6. 
However the committee never said publicly that this was the case, and Page later told TPM that his testimony was merely "tentatively" scheduled, according to TPM.
Trump's tweet came after a Fox & Friends segment on Page's testimony being reportedly postponed. 
The segment showed a statement from Page himself, which Trump quoted in his tweet just minutes after the piece aired.