CNN fires Kathy Griffin from New Year's Eve special after graphic Trump photo shoot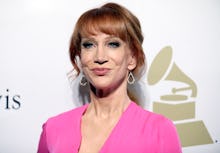 CNN has officially fired Kathy Griffin from their New Year's Eve special. The network confirmed its decision to "terminate" the countdown program "agreement" with Griffin on Wednesday. Mic's original story appears below.
Kathy Griffin issued an apology Tuesday in response to the negative reactions of her holding a mock severed head of President Donald Trump, but it looks like the fallout from the graphic Tyler Shields photo shoot continues. CNN is reportedly considering whether they should keep the comedian on for New Year's Eve hosting duties.
Griffin has co-hosted New Year's Eve Live with Anderson Cooper on CNN for 10 years. In a statement to Mediaite, a spokesperson for CNN said while they're glad Griffin has apologized, they are looking over their New Year's Eve plans:
We found what she did disgusting and offensive. We are pleased to see she has apologized and asked that the photos be taken down. We are evaluating New Year's Eve and have made no decisions at this point.
Cooper, who is also a good friend of Griffin's, reacted to the photo on Twitter and called it disgusting: 
The photo was released on Tuesday by Shields. He told Entertainment Weekly that it was meant to be provocative and cause a discussion. 
"It's such a timely image. We see millions of visuals every day and to make something that really stands out is very difficult now. I think that this has the potential to make people stop for a second and say, 'What is that?'" Shields said about the shoot. 
The photo certainly got people talking. Griffin posted the following apology on Twitter late Tuesday:
I sincerely apologize. I am just now seeing the reaction of these images. ... I went way too far. The image is too disturbing. I understand how it offends people. It wasn't funny. I get it.
Trump himself responded to the photo with a tweet on Wednesday, saying his family is "sick" over the image:
Mic has ongoing TV coverage. Please follow our main TV hub here.