'This Is Us' season 2 time slot moved again — but that's a good thing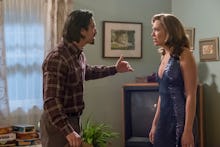 After the initial news that This Is Us would move to Thursday nights this fall, it was announced that the show will remain in its Tuesday night time slot instead. For football fans, this is good news, as there is now no need to panic about choosing between the NBC drama or catching Thursday Night Football this forthcoming season.
Earlier in May, NBC announced This Is Us would be given a Thursday night time slot at 9 p.m. Eastern. The network had plans to bring back its Thursday night "Must See TV" block by making the change in conjunction with the revival of its hit show Will & Grace. This Is Us would have aired for six weeks, followed by a break so that the network could air its own Thursday Night Football games. It was also believed the show would somehow make more connections to the Pittsburgh Steelers since the characters are fans of the team. 
But now This Is Us fans won't have to deal with the originally planned gap between the sixth and seventh episodes this fall. 
This Is Us season two will air on Tuesday nights at 9 p.m. Eastern after The Voice at 8 p.m. Law & Order True Crime: The Menendez Murders follows at 10 p.m. 
Mic has ongoing This Is Us coverage. Please follow our main This Is Us hub here.