Model Tess Holliday calls out Chloë Grace Moretz's 'Snow White' reboot for body shaming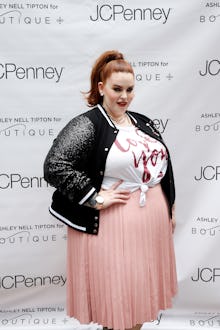 Read this summary of Chloë Grace Moretz's new Snow White reboot, Red Shoes and the 7 Dwarfs, and see when the alarm bells start going off.
The upcoming film is about seven princes who have been put under a spell and turned into dwarfs. To undo the spell, these guys must go out and find some magical red shoes, which happen to actually belong to Snow White. Why does Snow White wear these shoes? Well, because they transform her from a short, curvier woman into a tall, thin, so-called "beautiful" woman, and that's apparently how she wants to present herself to the outside world. 
You can watch the trailer for yourself: 
Of course people who are supportive of body positivity and against things like fat shaming are already concerned. Tess Holliday, one of the only models above a size 16 regularly working in the industry, has been one of the most vocal.
On Tuesday, Holliday let her thoughts on the movie be known, tweeting out a billboard for the movie that caught her eye. 
"How did this get approved by an entire marketing team?" Holliday wrote, tagging Moretz's Twitter account. "Why is it OK to tell young kids being fat = ugly?"
By "this," Holliday is referring to the billboard itself, which reads: "What if Snow White was no longer beautiful and the 7 Dwarfs not so short?" Meaning: If these magical red shoes come off of Snow White, she will no longer be beautiful, because she will be curvier and shorter. 
Holliday is far from the first person to point out how damaging this theme can be in this movie, which will likely be seen mostly by children. On Twitter, it's been a regular topic of conversation for days now. 
Among Holliday's own fans, people are worried that the film will affirm the social construct that curvier women aren't beautiful and are "less than." 
Mic has reached out to Holliday for further comment.