Nas pens essay on how he survives as a black man under a racist president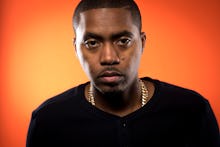 Following the announcement that he's embarking on a co-headlining tour alongside Ms. Lauryn Hill in September, Nas has shared a new essay detailing how life has been for him in Donald Trump's America. It's been a maddening few months since the election, and for some people, this administration's actions could have serious, even fatal, consequences. But life for black men in America has been a struggle for a long time. Trump is simply the new face of an longstanding social ill.
"We all know a racist is in office," the rapper writes in the essay, which he shared on Mass Appeal. "People can go through their moments of that shit, but when you have the responsibility of being president and you carry on like that, you send a strong message to people outside of your group that they ain't worth shit. So why would I focus on that unless I'm in the political game?" 
They're strong words coming from one of the most commanding political thinkers in hip-hop history. Nas is not interested in trying to get inside the mind of the president, he's focused on the people. And the piece ends up offering a profound look at his creative process as he's preparing to follow up his most recent album, 2012's Life Is Good.
"Whatever president may be in office doesn't affect my work directly," Nas wrote. "The way he affects people is what affects me. I observe what's going on and that goes into my creative process. The person himself, I'm not caught up with. I don't even have time for Trump or Pence. I don't give a fuck."
Nas lived through eight years of Ronald Regan in the White House. He lived through two Bushes, Bill Clinton and Barack Obama. And, as he points out in this letter, the calamities have remained constant — black men are still having fatal run-ins with police and are still being targeted by racist legislation. "From when I was born, people have enforced laws targeting so-called minorities to keep us enslaved, in a way," Nas wrote. "I survived that."
The world can't ignore people in power and their oppression of minorities completely, Nas claimed, describing that as "going the O.J. route." 
"Even he got dealt with at the end of the day," Nas wrote.
One has to find their contribution, and Nas' is art. "Art is gonna thrive regardless," he wrote. "Whether it's affected by who's in office or not, art thrives."
He also used the letter as an opportunity to outline his mission for the foreseeable future, offering the clearest vision of what his new era as an artist will be like. According to the 43-year-old emcee, it will be a synthesis of music and action dedicated toward inspiring young people, particularly those in the inner city:
I might have a song I want to deliver and then do things around that song that represents that song. And that can represent people and change and help with the education of young people. I like those ideas. I like ideas about helping kids in the inner city want to learn. Helping them want to be more. I'm all about being what you can be, because you never know.
Nas hasn't set a date for his upcoming 12th album yet, but if you take the words from his 2016 collaboration with DJ Khaled, "Nas Album Done," literally, the record is finished. May it provide even more sage guidance for navigating Trump's America.
Mic has ongoing music coverage. Follow our main music hub here.