Lindsay Lohan is observing Ramadan — and she wants you to know she's kicking it off on a fancy yacht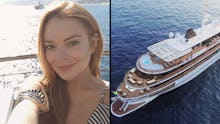 Actress Lindsay Lohan, who several people believe is a secret Muslim, is observing Ramadan. Ramadan is the month-long holy ritual when Muslims from all over the world fast from dawn to sunset.
On Friday, when Ramadan began, Lohan uploaded an Instagram post wishing her Muslim followers a happy Ramadan.
During the Cannes Film Festival in southern France, Lohan and some of her close friends boarded the enormous 86 Chakra yacht. According to Scott Carlsen, Lohan's manager, the Hollywood starlet has been fasting for Ramadan while living in one of the largest yachts in the south of France.
"The ocean brings me a sense of peace and calmness and I am totally obsessed with boats and being on the water so this was the perfect choice for this holiday and to celebrate Ramadan," Lohan said in an email statement.
Lohan invited her friends over for a big feast after fasting for the whole day. Carlsen said that Lohan invited Adrien Brody, Jeremy Renner, Salma Hayek and Pamela Anderson to break the fast with her. 
"I really enjoyed sharing feasts with friends; it brings a beautiful feeling of community and peace, it really made me happy and appreciative of life," Lohan said in a statement to Mic.
Lohan, who is planning on making a return to Hollywood, also hung out in Monaco watching the Grand Prix and chilling with Leonardo DiCaprio and his squad. But despite cruising around the Mediterranean Sea, Lohan still kept with up with her fasting. 
"Between charity galas and flying in helicopters to events, Lohan was spotted jet skiing around the boat, tanning and teaching mediation classes on the upper deck," Carlsen said.
Ramadan is the one time of the year Muslims abstain from drinking water and eating food to foster sincere empathy to those who are thirsty, hungry and destitute. It's a period of spiritual growth and an opportunity to increase their philanthropic duties as Muslims. Fasting is also meant to commemorate the month when Prophet Mohammed received the first revelation of the Quran from God. Ramadan is also one of the five obligatory pillars of Islam, including the declaration of faith, almsgiving, five daily prayers and the pilgrimage to Hajj.