New Jersey town to pay Muslim group $3.25 million after allegedly changing law to deny mosque permit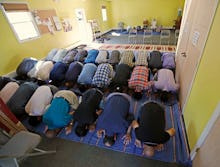 The upscale town of Bernards Township, New Jersey, will pay $3.25 million to the Islamic Society of Basking Ridge to settle a lawsuit over the denial of a permit to build a mosque, the U.S. Department of Justice announced Tuesday.
The DOJ filed the lawsuit in November, alleging that the town discriminated against the group's members because they are Muslim.
"Federal law protects people of all religious communities from discrimination and unlawful obstacles when they seek to build a place of worship," said Acting Assistant Attorney General Tom Wheeler of the DOJ's Civil Rights Division.
The Islamic Society applied to build the mosque in April 2012, on a 4.3-acre lot it had purchased the previous year. But the town denied the group's permit after four years of hearings — and after allegedly changing its zoning laws to only allow construction of houses of worship in residential neighborhoods on lots six acres or larger, according to reports.
Before the zoning laws were changed, eight of the 11 houses of worship built in Bernards Township were on lots smaller than six acres, according to CBS News. One Bernards Township resident said he and "most of his neighbors" were trying to block the mosque's construction by passing out flyers saying, "… each Muslim is attempting to follow and obey their book's rules, which is to kill, and destroy, and to take over the homes of those who are not Muslim."
The evidence suggested a targeted campaign of discrimination. As part of a separate agreement reached Tuesday, the Islamic Society will be allowed to move forward with building the mosque. 
"Through this agreement, the Islamic Society of Basking Ridge and its members will be able to build a mosque and exercise the fundamental American right of freedom of worship," Wheeler said.
But the drama in Bernards Township remains far from the only controversy involving the building of a mosque on U.S. soil. The most famous example was the 2010 outcry over the proposed construction of an Islamic center and mosque in Lower Manhattan, near where the World Trade Center was destroyed on 9/11. Two-thirds of New Yorkers polled at the time said the builders should find a "less controversial site" for the center, according to the New York Times.
And the DOJ is currently investigating the city of Bayonne, New Jersey, where mosque plans were similarly rejected earlier this year amid allegations of anti-Muslim bias.