'Fargo' season 3, episode 7 features nods to season 1 and 'The Fugitive'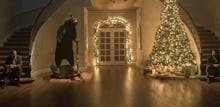 Despite the proximity to season one of the anthology series, Fargo season three hasn't tempted itself with callbacks. That is, unless using the voice of Lorne Malvo (Billy Bob Thornton) to tell a children's fable in episode four counts. That's not necessarily a bad thing; Noah Hawley's Fargo is so much more than a Coen Brothers pastiche, and the subsequent seasons seem to further that notion by really making the viewer question what makes Fargo, well, Fargo. Case in point: Somehow, an earlier episode set in Los Angeles — with animation! — didn't only feel like Fargo, it was also perhaps the best episode of the season. 
But it still seemed like a matter of when, not if, we would arrive at the biggest callback to season one. Episode seven ended up being the lucky number, along with the appropriate title of "The Law of Inevitability." Indeed, the season one nod — what with the four-year time gap between season one and three — felt inevitable, but it was nonetheless a masterstroke of creativity. The episode echoed the familiarity of a major character, reintroduced an unexpected face and even made a nod to the 1993 thriller The Fugitive. Truly, Fargo is a canvas for Hawley to paint whatever the hell he wants — and I mean this most endearingly. 
"The Law of Inevitability" picks up where last week left off: the shocking death of Ray Stussy, aka one-half of Ewan McGregor attempting a Midwestern accent (also, apparently it's Christmas Eve?!). Ray's body is found by Gloria, and Nikki is soon arrested in her motel room by the police. Sheriff Dammik already has the narrative lined up, thanks to Nikki's bruises from her previous beatdown at the hands of Yuri Gurka and Meemo: Ray was beating Nikki, until she finally snapped and took matters into her own hands. Gloria, of course, doesn't buy this story. 
Meanwhile, Emmit goes right from accidentally killing Ray to having a business dinner with Sy and the Widow Goldfarb, who wants to buy his parking lot enterprise. It's clear from the onset that Emmit is just a little off — as one might be after seeing their brother remove a glass shard from his neck and subsequently bleed out. His culpability is certainly in question when Officer Winnie Lopez gives him the news of Ray's death at dinner, but before she can say anything, he blurts out, "I've been here since six!" 
It's Gloria's insistence on interviewing Nikki — despite Dammik's protests — that ends up saving her life. A mysterious new character dressed as a police officer shows up and tries to inject Nikki with a syringe of God-knows-what before Gloria intervenes. We don't get the character's name, but for a moment you might mistake the person — played by DJ Qualls — for season one's Lester Nygaard. Lester was portrayed by Martin Freeman, and he and Qualls bear some likeness to each other, which feels intentional on the part of Hawley. This season is all about mistaken identities, after all. As a kindness, Nikki offers Gloria a clue: Follow the money. 
There's no doubt that Qualls' character is another one of V.M. Varga's henchmen, and the actor is well-known enough that we should expect him to return before the end of the season. Also, thank goodness, Nikki survives the jaws of death once again (I say this because I like the character, but also because I'd love to see Mary Elizabeth Winstead's performance for the entire season). 
But perhaps I spoke too soon: Just as Nikki appears to be safe, being transported to prison and away from the police station, she's seated next to a curious prisoner. You'll hear the cue of some familiar music from season one: Jeff Russo's "Wrench and Numbers." It's the deaf hitman Wes Wrench, one-half of the duo that nearly took down Lorne Malvo. The last we saw of Wrench (unless you count his childhood cameo at the end of season two), Malvo releases him from his hospital bed in season one, allowing him to kill another day. The four years that have followed don't appear to have been kind to Wrench, but his reintroduction offers myriad possibilities for the rest of season three. 
That's assuming he survives the bus crash. Yes, Fargo goes full Fugitive after Yuri Gurka causes the bus to topple over by placing himself in the middle of the road. He's there to presumably finish the job of Qualls' character, ending Nikki before she's able to give anything else to the police. He's cutting through the interior barricade between driver and prisoners just as we get to the closing credits. Will Nikki survive another brush with death? Is Wrench alive? Can Wrench save Nikki? Doesn't anybody have plans on Christmas Eve?  
Oh, yah, can we just get to next week, already? 
Fargo airs Wednesdays at 10 p.m. Eastern on FX. 
Mic has ongoing Fargo coverage. Follow our main Fargo hub here.