'Pokémon Go' Update: Could Niantic debut more details about upcoming events at WWDC?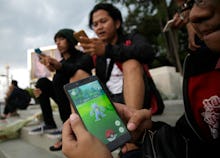 Niantic loves to tease Pokémon Go developments in weird places. From getting some updates about player-vs-player battles in a Brazilian newspaper to hearing about regional migrations and legendary Pokémon events in Wired Germany, Niantic sure likes to bury the lede where big changes to the game are concerned.
This is doubly true for onstage appearances. In the past, Niantic urged players to save their candy for an upcoming event at the DICE Awards, and more recently, they promised fans that the summer would be legendary at the Webbys. So could there be another major tease on the horizon?
Pokémon Go update: Does Niantic have something planned for WWDC?
Their prior history considered, many fans on the Silph Road wondered if Apple might allow Niantic to make an announcement at the 2017 Worldwide Developer's Conference, which starts Monday. 
According to poster renerichie, Niantic was featured at last year's conference showing off Pokémon Go, and then made an appearance the next day at the iPhone 7 event to show off Pokémon Go for Apple Watch. Renerichie also wondered if it might have something to do with the game's augmented reality capabilities as well:
"Apple's CEO, Tim Cook, has been willing to talk about and tease AR in a way he hasn't any other special project at Apple," they wrote. "The company considers it not just a product, like glasses, but a core technology for the future."
"Of course, Pokémon Go could use it for the Gym redesign or PvP or some big new feature they'd announce on stage," they added.
However, it's a big question as to whether or not Niantic will even get any stage time at WWDC this year. One poster remarked that there's nothing really "new" for Pokémon Go to debut that relates to Apple itself — the Apple Watch functionality was probably what they wanted to highlight. Additionally, only Apple gets to decide who comes to the WWDC.
The other argument being raised, however, is the acknowledgement that Pokémon Go has established a niche market since it was introduced a year ago, and that not many people outside of those still playing the game would be interested in seeing new features.
There's always a chance that Niantic could show up at the WWDC, but without something Apple-specific to justify their inclusion, it seems unlikely.
More Pokémon Go news and coverage
If you're just booting up your Pokémon Go account, check out our first impressions of the Gen 2 update. You'll also want to learn more about the Unown and new evolutionary items like the Sun Stone and more. If you're looking for a list of evolutions that weren't initially revealed by Niantic, this article is your guide. 
If you're more interested in the main games, here's the latest on a possible Pokémon title on the Nintendo Switch: Pokémon Stars. And if you're itching to learn about the other mobile Nintendo games, check out our coverage of Fire Emblem Heroes and Super Mario Run.