'Final Fantasy 14: Stormblood' Beta Early Access: How to play the new expansion as soon as possible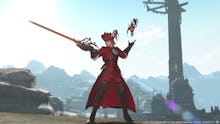 MMORPGs are living, breathing and constantly expanding games, and Final Fantasy XIV is no different. Its next expansion, Stormblood, packs in new zones, new job classes and brand new underwater gameplay. It launches on June 20, but if you want to play it a few days early, there's an easy way to do so.
How to get Final Fantasy XIV: Stormblood early access
This comes courtesy of IGN, who compiled a guide to all the ways to preorder Stormblood. All you have to do is preorder the game in any capacity to get early access to the new content starting June 16 at 2 a.m. Pacific, four days before its official release.
It's not a huge bonus, but you can get a decent head start over the rest of the community. You'll get early access to the new samurai and red mage jobs, both of which are high level damage dealers, according to Polygon. Of course, it also brings dozens of hours (at least) of new areas and quests to see. This is an MMO, after all.
Final Fantasy XIV Stormblood launches on PS4, PC and Mac on June 20. 
More video game news and coverage
Check out more video game content on Mic, including which Pokémon are actually the best and why black players can never seem to get custom characters that look like them. Learn more about how blind gamers are getting in on the fun and why Injustice 2 is nerfing its female characters. See why we love Twintelle (and why we hate Twintelle) in the upcoming Arms, and don't miss our guide to dodging blue shells in the Mario Kart 8 Deluxe — you can thank us later.