'Overwatch' New Hero: Everything we know about the rumored character so far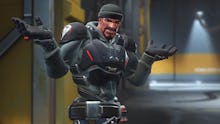 It's been a little over a year now since Overwatch launched. After this year, we've gotten a sense of Blizzard's design practices and routines — we know how they tease new updates, we know how often they release new characters and we know what to expect from each event. 
For example, it's been about 11 months since Ana was first released, which means that some fans are speculating a new hero. But who could it be? Well, there are a couple different ideas.
Doomfist has been teased in Overwatch since day one
Before Orisa, Sombra or even Ana, we had Doomfist. For those who have been with Overwatch since the beginning, you might remember the first cinematic trailer with Winston and Tracer fighting Widowmaker and Reaper in a museum. 
The whole reason they're in the museum is because Widowmaker and Reaper are trying to steal Doomfist's gauntlet — in fact, the climax of the trailer is when one of the brothers visiting the museum uses the gauntlet to punch Widowmaker. 
After all this time, and an absurd amount of rumors having to do with Terry Crews potentially voice-acting Doomfist, fans are still waiting for his reveal. 
Hammond could very well be the second monkey character in the Overwatch cast
A newer theory is that Hammond might be the new character. Hammond is a name we got from a teaser that seemed to be indicating an upcoming lunar colony map. Hammond, like Winston, seems to be one of the former test subjects of the research being done on the moon. 
We don't know anything about Hammond, aside from a name, but it's possible, based on some of the text in the teaser, that Hammond is a small, monkey-type character. They specifically mention his size in the teaser post, so that's led to a lot of speculation. In fact, some people are thinking he might not be a monkey, but another small creature — maybe scientist bunny?
Stylosa, a popular Overwatch community personality, has a video about this subject. It's wild speculation, but it's kind of interesting.
More Overwatch news and updates
For more on Overwatch, check out the rest of what Mic has to offer. Here is an essay about how Efi Oladele was a missed opportunity for Overwatch, a deep dive into the issue of sexual harassment in Overwatch voice chat, an unintentionally hilarious infographic showing the most popular Overwatch characters in each state, a criticism of Blizzard's failures in its design of Symmetra and a dive into a cool trend on Tumblr that converts your most-played heroes into a psychedelic illustration.