'Sonic Mania' price and release date: Arrives Aug. 15 on PS4, Nintendo Switch, Xbox One, PC for $20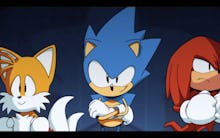 Sonic Mania is Sega's nostalgia play. Instead of giving us a game like the universally unloved Sonic Boom or pitting the hedgehog against Mario in the Olympics again, Mania takes things back to the original days of Sonic. You know, when the game got good ratings.
Now we've got an official release date, in the form of a Sonic Mania trailer, and a better idea of the game's pricing.
Sonic Mania trailer confirms release date on Switch, PlayStation 4, Xbox One and PC
As seen in the trailer, Sonic Mania will hit on Aug. 15 on nearly every current-generation game platform. Check out the new official visuals below:
The game lets you play as the original crew: Sonic, Tails and Knuckles. While many 2D art styles were available to Sega, they've gone with graphics resembling the original Sega Genesis games.
Sonic Mania price will be $20 to download, $70 for collector's edition
The Sonic Mania trailer also points out that digital preorder is now available. Places like Steam have the game listed for $20, with a slight discount. Those hoping to buy the collector's edition of Sonic Mania can do so for $70 on places like Amazon, also at a small discount with Amazon Prime.
Official prices were announced via Sega PR, according to Nintendo Everything.
Between the classic spin dash and jumping on enemies, the mechanics of the game appear to be a carbon copy of the original titles — which may leave out the newer abilities, like jump dash or grinding. Even the shorter stature of Sonic's animated form is an homage to old-school Sonic, though we all know no Sonic is truly authentic until he's voiced by Jaleel White. 
Consider these fingers crossed.
Check out more gaming news and coverage
Check out more video game content on Mic, including which Pokémon are actually the best and why black players can never seem to get custom characters that look like them. Learn more about how blind gamers are getting in on the fun and that Injustice 2 appears to be nerfing its female characters. See why we love Twintelle (and why we hate Twintelle) in the upcoming Arms, and don't miss our guide to dodging blue shells in the Mario Kart 8 Deluxe — you can thank us later.