Friends of Manchester bombing victim Martyn Hett are selling a T-shirt to honor his life — and wit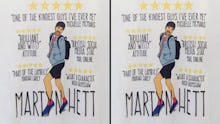 Friends of Martyn Hett, a victim of the Manchester bombing who achieved internet fame after a sweet social media campaign for his mother, have decided to pay tribute to his life — and sense of humor — with a touching T-shirt. 
Over on GoFundMe, Hett's friend Philip Normal is selling a T-shirt for 25 British pounds, with 20 pounds going towards Hett's family or a charity of their choosing. 
"Following a cry from social media that we produce it as a t-shirt, we thought it would be a fitting tribute to offer this design, with all profit going to Martyn's family or a charity, organization or project of their choice," Normal wrote on the GoFundMe page. 
As of this writing, the campaign — which has a goal of 10,000 British pounds or roughly $12,901 — has already earned more than 3,850 pounds, equivalent to $4,967, in three days.
"Martyn brought so much joy to people's lives in such a short amount of time, and he will never be forgotten," Normal wrote. "Through this T-shirt we would like to create something positive in the face of such tragic events. This T-Shirt is produced with permission from Martyn's family." 
Indeed, the shirt isn't so much a sad memorial, but a celebration of Hett and his wit. On the T-shirt itself is an illustration, drawn by Hett's friend Holly Shortall, depicting Hett smiling and surrounded by what look like "reviews" from celebrities. "Brilliant and witty," reads one of the quotes, which is credited to Attitude magazine. Another: "One of the kindest guys I've ever met," credited to Michelle McManus, a singer and radio DJ in the U.K. 
The shirt is already a hit with Hett's own family members, with Hett's brother Dan Hett posting pictures of himself wearing the T-shirt on Twitter. 
"I'm sure he'd be howling with laugher to see so many people wearing this ridiculous T-shirt with his face on it," Dan Hett told BuzzFeed. "Not just the T-shirts, but the sheer weight of support has been unbelievable. It's really carried us through. My phone is constantly vibrating with messages and things."
McManus has also spoken out about the fundraising campaign.
For a person so loved by his family, friends and even the internet, this T-shirt already feels like a wholly appropriate way to memorialize Hett's humor, wit and life.