5 ways Trump's Paris Climate accord decision will hurt people of color the most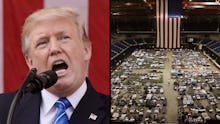 As of Wednesday morning, all signs pointed to the fact that President Donald Trump is set to withdraw from the Paris Accord, a multinational agreement meant to curb carbon emissions and stem rising temperatures attributed to climate change. 
Trump's decision is more than another bullet point in his anti-environment, anti-regulation policy agenda, it's also a huge potential blow to thousands of American citizens, especially people of color, who often unfairly bear the brunt of climate change's effects. 
Here are just a few ways the ripples of Trump's latest decision will be felt in communities of color.  
1. Air pollutants 
According to the federal Environmental Protection Agency, one of the drawbacks of climate change is air pollution, which disproportionately affects people of color. 
According to a 2012 Yale University study that explored the degree to which 14 common air pollutants affect people of different races, white Americans had the lowest levels of exposure to 11 of the 14 pollutants, while Latinos had the highest exposure level for 10 of the 14 pollutants. When it came to black Americans, they had higher exposure levels for 13 of the 14 pollutants than their white counterparts. 
2. Extreme heat and weather events
Because of structural inequalities, bad weather brought on by climate change has the potential to devastate communities of color, according to the EPA. Black Americans are almost twice as likely to die in a heat wave than white Americans. Because Latinos are overrepresented in crop and livestock production, they are three times more likely to die from excessive heat while working than the general population. Fifty-five percent of Latinos live in three states extremely affected by climate change: drought-ridden California, heat-ridden Texas and flood-ridden Florida. 
3. Food deserts 
Weather affects how food grows. Weather events can affect crop production, while increased heat can affect how bacteria thrives inside Americans' food. According to the EPA, living in an area without access to high-quality food choices exacerbates risk for ingesting bad food or having fewer options for certain crops. Unfortunately, that leaves people of color — who are more likely to live in these so-called food deserts — with fewer options. 
4. Unequal response to weather events
Rain may not discriminate where it falls, but differing infrastructures and response to natural disasters can be different in communities of color. For instance, The Nation reported that after Hurricane Katrina, New Orleans' white neighborhoods recovered, while its black neighborhoods did not. According to the magazine, 96,000 black residents — about a third of the city's black population — did not return after the storm due to a lack of rebuilding the Lower Ninth Ward, a mostly black community. 
The neighborhood was only about 60% rebuilt 10 years after the disaster. Because of racially discriminatory housing practices, a black homeowner in New Orleans was more than three times as likely to be affected by the storm than a white homeowner, according to The Nation. 
5. Language barriers 
According to the EPA, language barriers compound climate change injustice, meaning natural disasters may affect monolingual non-English speaking people more harshly than those who speak English. Environmental disasters have affected Spanish-speaking Latinos disproportionately in the past. During the Flint water crisis, Spanish-speaking Flint residents learned about the crisis much later than English-speaking residents. A 2012 study found that, because of a host of factors including language barriers, Latino migrant workers are mostly unprepared for natural disasters.