'The Keepers' update: The latest on Sister Cathy Cesnik's case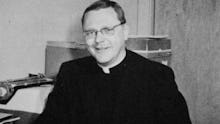 Netflix's latest true-crime series is also its greatest. Less manipulative and more comprehensive than Making a Murderer, The Keepers has built real buzz from its investigation into the cold case murder of Sister Cathy Cesnik. While the Baltimore Police Department hasn't made significant progress in the investigation since The Keepers premiered, Baltimore citizens are still reeling from having their city's old wound reopened. Refusing to stop at Cesnik's murder, The Keepers has exposed a shocking city-wide web of corruption — like The Wire, but real.
In 1994, over a dozen sexual abuse allegations were made against Rev. Joseph Maskell, the lead suspect in Cesnik's murder, by some of his former students. Maskell had been a counselor at Archbishop Keough High School during the late '60s and early '70s. In 2001, six years after having all his priestly duties revoked by Cardinal William H. Keeler, Maskell died.
Since May 2016, the Archdiocese of Baltimore has gone public with over 70 names of area clergymen who have been accused of sexual abuse. In November, it also admitted to paying $472,000 in settlements to alleged abuse victims of Rev. Maskell. These developments both corroborate and intensify revelations in The Keepers.
Though Baltimore police have announced that Maskell's DNA does not match DNA found at Cesnik's official crime scene, that does not necessarily mean he is cleared as a suspect. As followers of the Cesnik saga may recall, Maskell allegedly had an accomplice in the murder of Cesnik. It's possible that Maskell's accomplice, a fellow priest, carried out the dirty work in hiding Cesnik's body.
Mic has ongoing coverage of The Keepers. Check out our main Keepers hub here.