'Orange Is the New Black' Season 5 Review: The inmates have taken over — for now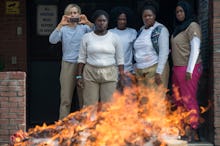 It might seem surprising that the fifth season of Netflix's Orange Is the New Black happens to be the funniest since the show's early years. After all, when we last left Litchfield and its inmates, at the end of season four, the prison was caught in total chaos in the wake of the show's most heartbreaking moment. We had seen Poussey (an excellent Samira Wiley) inadvertently killed by a prison guard, her death serving as an echo of several high-profile killings of black Americans at the hands of law enforcement. The ensuing maelstrom led to a heated standoff with myriad potential ripple effects: Daya (Dascha Polanco) points a gun at the head of Humphrey (Michael Torpey), the sadistic guard who actually snuck the gun into Litchfield in the first place.  
So, no, that doesn't sound like a recipe for comedy. Yet season five — once it resolves the Daya cliffhanger, and no spoilers on how! — finds several moments of levity once the prisoners take over Litchfield, making it a very palatable binge-watch. Between their creating a Law & Order-style courtroom to solve an inmate's transgression, and another inmate's retreat to a survivalist bunker ostensibly prepped years in advance with a massive cache of canned food, you'll likely find yourself cackling a lot more than you might've expected.
But savor those laughs. As humorous as season five is, the series carries an overwhelming sense of dread for what's to come. All 13 episodes take place over the span of a couple days; it's a bottle season, if you will. But the reverberating effects of the prison takeover, coupled with the subsequent treatment of the captured guards, makes one thing clear: Litchfield will never be the same once the inmates inevitably lose control of the situation. 
Without giving too much away with regard to Daya and the season four cliffhanger, the gun — the surest source of power at the rioting Litchfield — changes hands on several occasions in season five, in what amounts to a dangerous game of hot potato. It also offers a glimpse at an individual character's motivation. The simple notion being: When an inmate at Litchfield wields all the power, even temporarily, what does she plan on doing with it, and how will it affect everyone else?
This creates many alliances — and new roles — for the inmates. Some seek vengeance for their gross mistreatment at the hands of the guards, imprisoning them and feeding them the same gruel they've had to stomach on a daily basis. Some of this retribution escalates to sexual assault. Others take a more passive approach, essentially absolving themselves from the riot by camping out in the prison yard. Many are still recovering from the trauma of Poussey's death. It may have been a year since viewers last saw new episodes of Orange Is the New Black, but within the show's timeline, it's been only a couple of days since the inmates lost Poussey. 
Again, this all sounds like heavy stuff, but creator Jenji Kohan has demonstrated an innate ability to make even the most dire circumstances surprisingly hilarious — a trait she's carried over from her days as creator and showrunner of Showtime's Weeds. When the guards are imprisoned, one inmate forces them to have a talent show (Litchfield Idol!), which some of the guards actually become intent on winning. Elsewhere, Taystee very diplomatically polls the Litchfield prisoners to come up with a list of demands, which includes reasonable requests such as tampons and the release of a more detailed, honest explanation of Poussey's death to the press. But they also really, really want Flamin' Hot Cheetos to be available at the commissary (who among us?). Dare I say, it's the most blatantly funny product placement since Power Rangers revealed its hard-on for Krispy Kreme donuts. 
But with each passing episode — as of this writing, I have seen six — you can't ignore the tension coursing through the prison. To state the obvious, this riot isn't going to end well for anyone. The guards are woefully abused (how will they respond once they're free?), and they can point to several individual prisoners who are responsible for their heinous treatment. The governor of the state becomes involved, and he's less concerned with the well-being of the inmates than with the optics of a prison riot in an election year. If season five is the temporary — albeit euphoric-as-all-hell — high, then season six will be the sobering crash back to reality. 
Because the new season is compressed into a couple of days, it means far fewer new characters are introduced this time around — not like this ensemble needs any more players, anyhow. But the inmate takeover at Litchfield offers viewers the chance to re-evaluate who we consider to be the beating heart of the series. At the show's onset, Piper Chapman (played by Taylor Schilling) was the incumbent lead, the real-life story of Piper Kerman being the inspiration for the series. But Piper was never well-liked by fans, and her leading role has been steadily reduced over the years.
If Orange Is the New Black has any star power in season five, it's coming from Taystee (Danielle Brooks). Brooks is magnetic throughout, delivering impassioned speeches and a pathos that feels necessary after Poussey's death. If there was any question that it's now Taystee's show, episode six offers a somewhat literal passing of the torch, as Piper cedes the spotlight and begins filming Taystee, during a memorable speech that culminates in her setting a stack of supplies ablaze. "Our fight is with a system that doesn't give a damn about poor people, and brown people — and poor brown people," Taystee declares, and you can excuse yourself, like I did, for bouncing off of your couch to cheer her on. It really is a shame that season five has just missed the window of eligibility for this year's Emmys. I hope Emmy voters will remember June 2017 and Brooks' breathtaking performance when deliberating the nominees in 2018.
Season five of Orange Is the New Black is actually the first of an unprecedented three-season renewal, meaning fans are assured at least two more seasons of one of Netflix's flagship dramas. That's all well and good: Five years in, Litchfield is as compelling and emotionally resonant as it was when Piper first set foot inside the prison's walls. But viewers should be prepared for an uncomfortable fallout in future seasons. Going forward, the show might not burn this brightly ever again.
The fifth season of Orange Is the New Black premieres June 9 on Netflix.
Mic has ongoing coverage of Orange Is the New Black. Follow our main OITNB hub here.