'Injustice 2' Server Status: What to do when the servers go down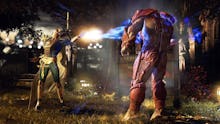 Although its campaign offers a lot of replayability, chances are good you're going to spend a lot of time playing Injustice 2 online. While turning the tables with Clashes and smashing your foes with stage transition combos using your favorite characters, you're probably going to battle another, less glamorous foe: server outages and glitches.
If you think the servers might be down or just want to see if others are having the same problem, we've got a couple of suggestions for places you can go.
Injustice 2 server status: Check the game's social media accounts
Twitter can sometimes feel like yelling into a pit of venomous snakes where the snakes can also yell back, but it is a great place to check whether a game with an online component is experiencing issues or just going through scheduled server maintenance.
If you've got a hunch the issue might be on Injustice's end, your best bet is to check its Twitter account first — chances are if the servers are down for maintenance or otherwise crashing, you're going to hear about it there first.
Injustice 2 server status: Check outage reports and Reddit
If everything looks clean on Injustice's end but you're still having issues, you've got options. The Injustice 2 outage report site is a good place to check. It'll show you how many people are reporting outages and from where, and it's also where you can report an outage yourself. There's even a handy Twitter feed on the side that brings up tweets from people writing about the game in question — just be warned you might see some harsh language on there.
The Injustice 2 subreddit is another place you can check to see if anyone else is experiencing an outage or other issue. The more information you give about which platform you're using and the issues you're experiencing, the more likely it is someone will be able to help you.
Injustice 2 server status: Reset your internet connection and update the game
If all else fails, sometimes the simplest solutions are the best. As Chaos Hour suggested, if you're continuing to have issues connecting to Injustice 2's online content, you may want to reset your internet connection and make sure you're not behind a firewall, which could prevent you from using the game's online features. 
Chaos Hour also recommended making sure you've got the most current version of the game, since updates are required to use most online features. This could be the culprit if you have auto-updates turned off. If you've exhausted these potential solutions, it might be time to have a chat with your network provider.
More gaming news and updates
Check out the latest from Mic, including our list of video games that made fun  of their players, a personal essay about dealing with anxiety through Breath of the Wild, a look at the racist and sexist experiences in eSports and a plea for better character customization options for black characters.