This Portland ice cream shop is using "rescued food" in its newest flavors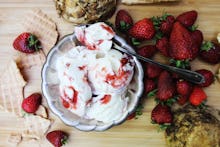 Salt and Straw, an ice cream shop in Portland, Oregon, debuts innovative menus each month, with wild offerings like green apple and wasabi sorbet and a sarsaparilla and dandelion root beer float. But this month marks the first time the shop is releasing flavors made from food waste. From June 2 until June 30, the beloved Portland ice cream institution will sell 15 new flavors that incorporate rescued food.
What is "rescued food"? The ice cream ingredients that would have otherwise been thrown away include items like bourbon-soaked Oregon cherries, overripe strawberries and extra movie theater popcorn. Each ingredient was sourced with the help of local nonprofits — organizations including Portland's Urban Gleaners, San Francisco's Food Runners and Los Angeles' Food Forward. Its ice cream shops in Portland, San Francisco and Los Angeles will each feature five of the new flavors.
"I've been working on this menu for a year and a half," Tyler Malek, head ice cream maker and co-founder of Salt and Straw, said in a phone interview, noting he usually plans out menus nine months in advance. He described the menu as a "pet project" that involved middle-of-the-night calls from nonprofits who couldn't redistribute all of their food donations to people in need. They offered Malek the extra pallets of Veganaise (vegan mayo) and sunchokes for him to use in his ice cream.
After getting to know Urban Gleaners, which helped Salt and Straw redistribute seasonal ice creams no longer sold in shops to adults and children without access to food, Malek began brainstorming how he could bring attention to the issue of food waste while helping Urban Gleaners repurpose edible food that was heading to the trash.
This isn't the same as dumpster-diving, Malek noted, explaining that all of the food is safe to eat but was simply surplus or had been considered unsuitable for other customers for cosmetic reasons. (Misshapen produce and whey, one of the byproducts of cheesemaking, are two such ingredients.)
Why Salt and Straw is rescuing food waste
"Hearing, 'Is this normal? Can it be normal?' gets me really excited," Malek said. "Provoking that conversation is exactly what my goal was with this menu." He hopes the unconventional flavors inspire people "to think about food creatively" and consider the fact that a whopping 40% of food gets wasted each year.
"Hearing, 'Is this normal? Can it be normal?' gets me really excited." -—Tyler Malek, Salt and Straw
Americans throw out roughly $29 billion worth of food each year just because of confusing expiration dates, and lots of misshapen and discolored produce never makes it to grocery store shelves because retailers assume Americans won't buy it.
The Salt and Straw team deliberately paid market rate for all the ingredients in an effort to make a statement. "I wanted to prove to our company and to their companies that there's value in these ingredients," he said. Salt and Straw declined to say whether or not the new ice cream flavors cost more to develop, but a spokesperson did confirm that it was a lot more challenging to work with the rescued food.
But the challenge has inspired Malek to continue thinking about rescued food in new ways. "We have a lot of ideas for building out this supply chain for saving this excess food in years to come," he said.
Salt and Straw is introducing the following rescued food flavors:
Los Angeles
Top of the Beet: Uses the tops of beets discarded at farmers' markets.
Portland
Toasted Baguette and PB&J: Uses surplus bread and jam from surplus frozen berries.
San Francisco
Roxie Road: Uses extra movie theater popcorn.