'Assassin's Creed Origins' 2017: Leaks claim to reveal main character and game logo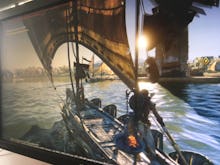 For what feels like the 20th time this year, new information about the next Assassin's Creed game — allegedly titled Assassin's Creed Origins — has leaked before Ubisoft has even announced it. At this rate, we'll all be playing the game before we've even seen a trailer.
Assassin's Creed Origins 2017: Logo and protagonist art revealed?
The leaks come courtesy of WWG, whose sources sent along images of merchandise related to the game. The photos show T-shirts with logo art and an illustration of the bow- and shield-wielding protagonist shown in the previously leaked screenshot above. 
As you can see, it's the traditional Assassin's Creed with the ancient Egyptian Eye of Horus symbol inside. That's because, as we've heard many times at this point, Assassin's Creed Origins takes the series to ancient Egypt to depict the beginning of the eternal war between the Assassins and Templars. One of the other images WWG received sports the date 49BCE, so that's probably when it takes place. 
With E3 2017 taking place in a couple of weeks, it won't be long now before Ubisoft finally gives us its official version of Assassin's Creed Origins  marketing. At that point, we'll find out whether the rumors about dual protagonists, new combat and a more open, RPG-like structure are true. Until then, we have some T-shirts to look at.
More video game news and coverage
Check out the latest gaming content from Mic, including an analysis of which Pokémon are actually the best and a plea for better character customization options for black characters. Learn more about how blind gamers are getting in on the fun and why Injustice 2 is nerfing its female characters. See why we love Twintelle (and why we hate Twintelle) in the upcoming Arms, and don't miss our guide to dodging blue shells in the Mario Kart 8 Deluxe — you can thank us later.