A 'Daily Caller' reporter gave a speech at a white nationalist event he was covering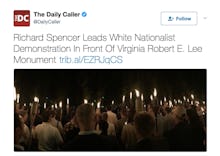 A freelance reporter gave a speech at a white nationalist event supporting confederate monuments — and then wrote an article about the event for the conservative website the Daily Caller.
ProPublica reported Wednesday: 
On May 14, the 'Daily Caller,' a popular conservative website, published a news story about recent protests in Charlottesville, Virginia. Led by prominent white supremacists and anti-Semites, the protesters, some carrying the battle flag of the Confederacy, expressed their anger over the city's plans to remove a large monument to Robert E. Lee.…The story, it turned out, also carried some critical omissions: It didn't disclose that its author, Jason Kessler, is supportive of white supremacist groups, and on the day of the march had himself made a speech to the protesters in which he praised fascist and racist organizations, thanked a prominent Holocaust denier, and declared the beginnings of a cultural "civil war."
The protests in Charlottesville, Virginia, are part of an ongoing campaign by white nationalist groups to prevent localities from taking down Confederate monuments. The Daily Caller has covered the demonstrations extensively. 
Vince Coglianese, the editor-in-chief of the Daily Caller, said the publication did not know that Jason Kessler would give a speech at the event. Coglianese said that the website cut ties with the freelancer as soon as it found out.
"We don't publish news reports by involved activists," Coglianese told Mic in an email. "We severed ties immediately after we found out."
After an inquiry from ProPublica, the Daily Caller also appended the article with a brief mention of Kessler's support of the demonstrations.
"Editor's note: The author notified the Daily Caller after publication that he spoke at a luncheon May 14 on behalf of an effort to preserve the monument," the editor's note reads.
The remainder of the article was not altered. In the article, the protestors are characterized as "sympathiz[ing] with the fight to preserve a history which they say is increasingly under attack by Left-wing ideologues who want to tear down statues, change the names of buildings and rewrite history books to place white people in an unsympathetic and even hostile light."
The story does not mention the contents of Kessler's speech, during which he praised the anti-democratic group the American Vanguard and Sam Dickson, a Holocaust denier. 
Kessler's white nationalist beliefs have been well-documented, and he is outspoken on his social media page and his personal website about his beliefs. 
Kessler has voiced his support of the monument and of the protests, and has accused efforts to remove Confederate monuments as being motivated by "anti-white" sentiment. 
An emailed request for comment to Kessler was not immediately returned.