Who is Tim in 'House of Cards'? A relic from Underwood's past comes back to haunt him.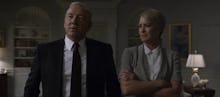 House of Cards' fifth season dropped on Netflix Tuesday. And in these new episodes, a person from President Frank Underwood's past is brought back into the plot: Tim. In episode eight of season one, viewers are introduced to Tim when Frank goes to Charleston, South Carolina, to be honored by their  alma mater The Sentinel. During this episode, it is revealed Tim and Frank were were not only friends, but also lovers while they were both attending the military school.  
In season five's second episode, Tim has reportedly gone missing. During a visit to New York City, Claire holds a terrorism-related press conference with the city's mayor in the subway. There, she runs into Frank and Tim's college friend, Ken, who informs her that Tim — the owner of a rafting company — has been gone for two days after going out on the Arkansas River. 
"I thought for sure the president would've heard," Ken tells Claire. "I can't imagine how Frank's gonna take this."
But Claire believes Ken has a hidden agenda and will reveal Tim and Frank's past romantic involvement to the public.
Later, Claire returns to Washington to tell Frank about her conversation with Ken and reveal her hunch about not trusting him. Apparently, he reached out to Frank for help with regard to his business, but Frank had not returned his calls. Claire asks Frank why he hadn't called Ken, implying he now has a reason to turn his back on Frank.
With Tim back into the fold just two episodes into season five, viewers are wondering how his disappearance will impact the president as the season goes on, leading to an unexpected conclusion that shifts the plot entirely.
Mic has ongoing House of Cards coverage. Please follow our main House of Cards hub here.