The 'New York Times' is getting rid of its public editor position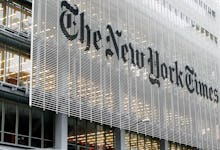 The New York Times is eliminating its public editor role entirely, and the paper's current public editor Elizabeth Spayd will leave the publication at the end of the week.
Times publisher Arthur Sulzberger announced the news in a memo to Times staff Wednesday, saying that there was no further need for the position.
"The responsibility of the public editor — to serve as the reader's representative — has outgrown that one office," Sulzberger said in the memo, which was reviewed by Mic. "Our business requires that we must all seek to hold ourselves accountable to our readers. When our audience has questions or concerns, whether about current events or our coverage decisions, we must answer them ourselves.
"To that end, we have decided to eliminate the position of the public editor, while introducing several new reader-focused efforts," the memo continued. "We are grateful to Liz Spayd, who has served in the role since last summer, for her tough, passionate work and for raising issues of critical importance to our newsroom. Liz will leave the Times on Friday as our last public editor."
HuffPost was first to report the news.
Spayd, a longtime Washington Post columnist and former editor of the Columbia Journalism Review, was a deeply polarizing public editor who faced criticism and mockery for her columns after the Times hired her in May 2016. 
She drew particular ire for writing a column responding to an alt-right troll campaign against a Times reporter after the reporter made a dog pun in reference to a parody Twitter account. 
Spayd defended the job she was doing in a May interview with The Atlantic, saying that her job "is not to win any popularity contests" and saying that it was up to the public to decide whether she was doing an adequate job. 
Sulzberger thanked Spayd and the Times' other public editors in his memo, but he said that social media commentary paired with the expansion of the Times' commenting platform and the creation of a Reader Center made the public editor position all but obsolete. 
"[O]ur followers on social media and our readers across the internet have come together to collectively serve as a modern watchdog, more vigilant and forceful than one person could ever be," he wrote. "Our responsibility is to empower all of those watchdogs, and to listen to them, rather than to channel their voice through a single office."
"... It's also worth noting that we welcome thoughtful criticism from our peers at other news outlets," Sulzberger added. "Fortunately, there is no shortage of those independent critiques."
The newspaper hired its first public editor in 2003 following an embarrassing plagiarism scandal involving former Times reporter Jayson Blair. The paper has had six public editors since then, including Margaret Sullivan, now a media columnist at the Washington Post, whose quick responses and occasionally withering criticism of the Times earned her many accolades. 
The Times' public editor role has sometimes been referred to as "the worst job in journalism."