Is 'Prison Break' coming back for season 6? This is what we know about the revival.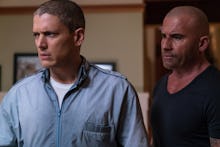 The Prison Break revival had its season finale Tuesday, and it might be the show's last episode ever. 
Things got grim for a moment in season five's ninth episode, titled "Behind the Eyes," but the finale ended on a positive note. 
Here is the episode's official synopsis from TV Guide: 
Dangerous threats keep Michael and Lincoln fighting to protect Sara and Mike in the season five finale. Meanwhile, Poseidon continues to try and outsmart Michael and the rest of the gang, which leads them to the ultimate showdown — and not everyone makes it out alive.
The finale offered some closure for fans after Michael concocted a master scheme to have Jacob framed. Thanks to his plan, Michael would once and for all have his name cleared. Remember, Jacob had originally framed Michael for allegedly murdering Harlan Gaines, when Jacob was the one who actually killed Harlan.
While all this was going down, Sara and Lincoln helped to save Mike Jr., Michael's son.
Right now, there is no confirmed sixth season for the show. Executive producer Paul Scheuring told Entertainment Weekly he would only do it if he could continue telling a great story. 
"I have a fairly high standard to what the stories need to be," Scheuring said, "and it's a very hard show to come up with new stories for because it's Prison Break and how many prisons can you break out? How do you make it not redundant?
"I felt this season was different in that it was based upon the Odyssey," he continued. "I felt like that was a strong narrative to do for nine episodes." 
If the show were to return again, the narrative would have to be stronger, and Scheuring admitted that's a bit difficult to manage with Prison Break. "Never say never, but we're just not going to do it just to do it; it has to be great," he admitted. 
The ratings for Prison Break weren't great, so another season is even less likely. The show returned with nearly 4 million viewers for the premiere but dropped to 2.5 million by the third episode.
Mic has ongoing TV coverage. Please follow our main TV hub here.