Money hacks to spend less and save a ton: Shopping secrets, tasty savings, coupon tricks and more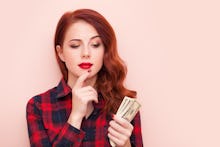 It's 2017, and that means you have more ways than ever to buy all the things you want and need: You can go online or in stores, and you might even be able to shop via drones soon. Of course, endless options can sometimes be overwhelming, leading to wasted money.
Luckily for you, the newest episode of the Payoff podcast has the inside scoop on how to start saving money whenever you spend it. Learning some basic shopping hacks and rules of thumb will grow your bank account without forcing you to give up your favorite foods, clothes and other everyday purchases.
First up, we have the results of a blind taste-test party conducted by special guest Bianca Giaever, who found out all the foods that aren't worth a splurge. Never pay more money for less flavor again!
Then we talk to Heather Wheeler and Joanie Demer, cofounders of hot, hot couponing website TheKrazyCouponLady.com. They dish out all the tips you need to avoid paying full price for anything ever again — including the secrets of gift-card exchanges.
And finally, we have answers to listener questions about shopping and deals from Christy Rakoczy, resident couponing expert and Mic writer, along with the secret to getting free stuff. Hint: Writing a letter could nab you a case of potato chips. 
Have a question you want answered in a future episode? Please write to us at PayoffPod@mic.com.
You can subscribe to the Payoff podcast on Apple Podcasts, Google Play, Spotify, Stitcher, iHeart Radio, TuneIn, RadioPublic or wherever you listen to podcasts. Please rate and review, and stay tuned for new episodes every other Wednesday!