Macbook Pro 2017: What laptops to expect at Apple WWDC 2017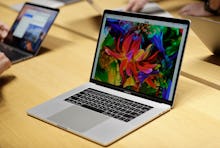 Apple's Worldwide Developers Conference is around the corner, scheduled to begin on Monday. Apple will likely unveil the next-gen of MacBook Pros at the software event.
First spotted by MacRumors, the 15-inch MacBook Pro with TouchBar (aka the current model) is out of stock with delivery estimates quoted for Monday, June 5, through Thursday, June 8. This kind of shipping date buffer is generally indicative of a new product on the horizon, reports 9to5Mac.
Current rumors suggest there will be small refreshes to the lineup of laptops from Apple. The tech giant is reportedly upgrading the MacBook Pro to feature Kaby Lake chips — this is a first for the company. There's also rumors that Apple will announce new 12-inch MacBook models. Both the Pro and the 12-inch model will reportedly have internal upgrades only.
As for the 13-inch MacBook Pro model, it's still in stock and available for delivery. Only time will tell if this model will be excluded from the refresh or if there's simply more inventory for the model.