'Super Smash Bros.' Nintendo Switch: Leaked screenshots are probably fake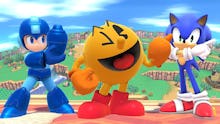 Everyone who bought a Nintendo Switch — or wants to buy one in the future — is curious about the next Super Smash Bros. game. Will it have any new characters? Will it even be a new game?
Nintendo has yet to tell us a single thing about, but some new screenshots purport to show the Switch version of the venerable party fighting game series. However, you probably shouldn't believe them.
Leaked Super Smash Bros. Switch screenshots are probably fake
The reveal comes courtesy of Nintendo Everything. A handful of Super Smash Bros. images that popped up on 4chan show stages and modes from the 3DS version of the last game with much higher resolution assets, suggesting the exclusive content from that version would be folded into an eventual Switch re-release of the game. This one, for example, shows the Paper Mario handheld-exclusive stage with much higher visual fidelity than before.
Other images showed the 3DS-only Smash Run mode being played in four-player splits creen, again with better visuals than before. If these images are real, a common sense conclusion would be that Nintendo is re-releasing the last Super Smash Bros. game with all the content from with Wii U and 3DS versions folded together. Considering Nintendo just re-released Mario Kart 8, it's not entirely out of the question.
However, GameXplain pointed out there are font and name discrepancies that put the veracity of these images in doubt. They've updated the info section underneath the video to say the images are confirmed fakes, so it seems like you should probably look elsewhere for Super Smash Bros. Nintendo Switch information.