Does 'Unbreakable Kimmy Schmidt' share a universe with 'Orange is the New Black'?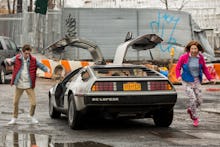 Between the Marvel Universe, DC Universe and whatever insane monster universe The Mummy is cooking up, standalone stories are starting to feel like a thing of the past. Recognizing this trend, Unbreakable Kimmy Schmidt has begun piecing together its own bizarre, all-encompassing Netflix-verse.
In season three, episode five, Unbreakable Kimmy Schmidt reveals that Kimmy's former bunker-mate Gretchen — now a convicted felon after kidnapping several preteens for her cult — is a prisoner at Litchfield Penitentiary. Anyone who has seen or read about Orange is the New Black will recognize Litchfield as the show's fictional prison. As a bonus, the crossover moment features Adrienne C. Moore in character as Black Cindy, which further suggests that Kimmy Schmidt and Orange is the New Black happen in the same crazy world.
Co-creator Robert Carlock has confirmed to Entertainment Weekly that UKS and OITNB indeed share a universe.
I think [the 'OITNB' scene] was just half a joke pitch and half we felt we could somehow save money, and that turned out not to be true. And, it turned into purely a joke that I think was Tina [Fey]'s. We thought it was funny to suggest we lived in that same world as 'Orange Is the New Black,' and of course, we're always looking for Netflix synergies.
Carlock also confirms that a line about the Yakuza in the Black Cindy scene is indeed a reference to Netflix's Daredevil. He hints that UKS may bring more popular Netflix shows into the fold in the future.
At the end of the day, what we want is a unified field theory where every fictional show in the world is actually real in our universe.
Eagle-eyed fans theorize that Kimmy Schmidt and 30 Rock also share a universe, since the actor who plays Mikey has appeared in both series as a catcalling construction worker. Unfortunately, that has been confirmed as a mere coincidence — though a Kimmy Rock crossover could still happen. In the meantime, Kimmy Rock should be the name of a cover band that only plays the Unbreakable Kimmy Schmidt theme song.
Carlock is mum on whether Gretchen will get her own episode in Litchfield, but he hasn't ruled out the possibility. Perhaps she'll start a prison love affair with Yuko, the omnipresent robot who most recently continued her path to world domination by moonlighting as a world-class crossing guard.
Mic has ongoing Unbreakable Kimmy Schmidt coverage. Check out our main UKS hub here.