Kathy Griffin is out as the co-host of CNN's New Year's Eve show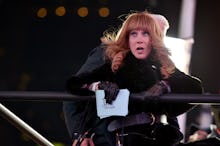 Kathy Griffin will no longer serve as a co-host of CNN's annual New Year's Eve program following her highly controversial photoshoot in which she held up a bloodied, fake severed head that resembled President Donald Trump.
CNN announced that it had cut ties with Griffin in a statement Wednesday.
Griffin has been the co-host of CNN's New Year's Eve Live program for the past decade. CNN sought to distance itself from Griffin and the controversy, issuing a statement calling the photos "disgusting and offensive."
The toilet accessory company Squatty Potty, which had brought Griffin on for an ad campaign, also cut ties with the comedian following the controversy.
On Tuesday night, Griffin apologized for the gory photos, which were taken by photographer Tyler Shields.
"I went too far, I made a mistake and I was wrong," Griffin said in a video apology that she posted to her Twitter account.
CNN host Anderson Cooper, who has co-hosted New Year's Eve Live with Griffin in the past, also issued a statement, saying that he was "appalled."
On Wednesday morning, Trump said in a tweet that Griffin "should be ashamed of herself."