Comey will testify that Trump pushed him to end the FBI investigation into Flynn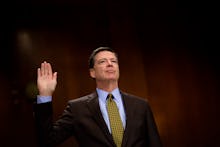 Former FBI Director James Comey will testify as early as next week that President Donald Trump did pressure him to end the FBI investigation into his former national security adviser, Michael Flynn, CNN reported.
Comey's testimony before the Senate Intelligence Committee is sure to keep the drumbeat of the Russia investigation front-and-center for the Trump White House, which is despearate to move on to making good on its big campaign promises, such as passing health care and tax reform bills.
According to CNN, Comey is unlikely to get into many specifics of the FBI investigation or possible collusion between the Trump campaign and Russia.
But, according to CNN's report, Comey is "eager" to publicly detail the conversations he had with Trump in the weeks leading up to his abrupt firing.
Trump, for his part, has called the entire investigation into possible Russia ties a "witch hunt."
Yet Trump also said that he had the Russia probe on his mind when he fired Comey. And he told Russian leaders during a meeting in the Oval Office that Comey's dismissal had "taken off" the "great pressure" he faced over the Russian investigation.
Together, those revelations have led Democrats and other anti-Trump figures to raise the specter of obstruction of justice charges.