Kabul Bombing Update: Latest death toll and reactions from around the world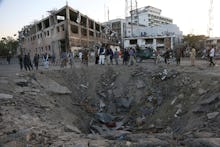 At least 90 people have been confirmed dead as a result of a bombing in Kabul, Afghanistan, on Wednesday. Approximately 400 others were injured in the blast, the BBC reported.
Afghan civilians and some foreign nationals who worked at nearby embassies were most of the casualties from the bombing, which took place during morning rush hour. Several embassies located near the bombing site, including the German, Turkish, French and Canadian embassies, suffered damage in the blast.
Eleven U.S. citizens working as contractors at the U.S. embassy were injured in the bombing, though Reuters reported their injuries were not life-threatening. BBC Afghan driver Mohammed Nazir was among those killed in the blast, and four of his colleagues were injured, the BBC reported.
No group has claimed responsibility for the bombing as of this writing, though the Taliban denied they were involved in the fatal attack. Further, the target of the attack — which took place near the German embassy in the Wazir Akbar Khan neighborhood — is unclear, Afghanistan public health ministry spokesman Ismail Kawasi confirmed to the Associated Press. The site of the bombing is also near Afghanistan's Foreign Ministry, Presidential Palace, and intelligence and security headquarters, the AP noted.
Leaders from around the world offered messages of condolences in the wake of Wednesday's attack. Though President Donald Trump has yet to publicly respond, ref="https://www.usnews.com/news/world/articles/2017-05-31/the-latest-blast-in-kabul-diplomatic-kills-at-least-9">the AP reported he has spoken with Afghan President Ashraf Ghani, according to a White House spokesperson who noted the president "strongly condemns" the bombing.
In a statement on Twitter, Canadian Prime Minister Justin Trudeau "strongly condemned" the attack and said staff at the Canadian embassy had all been accounted for.
Indian Prime Minister Narendra Modi also denounced the attack on Twitter and expressed solidarity with Afghanistan in combating terrorism.
German Prime Minister Angela Merkel expressed solidarity in response to the attack. "[Today] we're united in shock and sadness across all borders," Merkel said, according to ref="http://hosted.ap.org/dynamic/stories/A/AS_AFGHANISTAN_THE_LATEST?SITE=KYLOU">the AP. "We will lead the fight against terrorism and we will win it."
In the wake of the Kabul attack, Merkel decided to temporarily suspend deportations of Afghan nationals in Germany, citing the damaged Kabul embassy's role in facilitating the deportations, Reuters reported. Though Germany's mass deportations of failed Afghan asylum seekers has drawn ire from human rights groups, the policy is expected to resume shortly.