Voter roll purges emerge as the latest way to suppress liberal turnout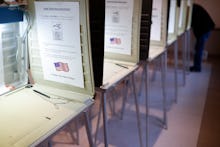 When it comes to "use it or lose it" policies, Americans may think of things like vacation days. Frequent flyer miles. Muscle mass.
In Ohio, however, it also applies to a fundamental, constitutionally protected right that comes with U.S. citizenship: Voting. And a looming Supreme Court battle over Ohio's voter roll purge could well have consequences that go far beyond the borders of the Buckeye State.
In Husted v. Ohio A. Philip Randolph Institute, Ohio Secretary of State Jon Husted has argued that he had the right to cancel the registrations of people who were targeted after failing to vote over a two-year period. Those voters are supposed to get a notification by mail. If they don't respond and don't vote within the next four years, they can be dumped from the rolls.
The plaintiffs argue that Husted's move runs afoul of the National Voter Registration Act, also known as the motor-voter law, which is supposed to make it easier to participate in elections. Just weeks before Election Day 2016, the 6th Circuit U.S. Court of Appeals granted a request to restore the eligibility of Ohio voters affected by the state policy.
Brenda Wright, vice president of policy and legal strategies at Demos, a progressive public policy group that's a party to the lawsuit, said in a telephone interview this week that people often jump through bureaucratic hoops to register to vote, only to find themselves booted from the rolls.
"Some of the evidence we saw indicated it was having a particular impact in urban communities that are particularly mobile, so, you know, people of color were particularly affected, and young people," Wright said regarding Ohio, which is historically a key state for Republican presidential candidates.
Husted, a Republican who's now running for governor of Ohio, said in a statement this week that "maintaining the integrity of the voter rolls is essential to conducting an election with efficiency and integrity" and went on to call the Supreme Court's agreement to hear the case "encouraging."
The secretary of state's website says that since 2011, Husted has removed 560,000 dead voters from the rolls, along with 1.6 million duplicate registrations.
However, Wright's perspective correctly reflects past research that suggests younger people and minorities wait in longer lines to vote and have a harder time dealing with identification requirements than their older white peers — all of which they'd have to deal with each time they got purged from the voting rolls.
"The most important thing is just any eligible voter who loses their right to vote for reasons that have no bearing on their eligibility, that that's a loss for the democratic system and for our goal of making all the voices heard in our democracy," she said.
Investigative reporting has dug up evidence that Ohio's voter purges have been, in some cases, haphazard.
Additionally, a 2016 Reuters study "found that in Ohio's three largest counties, which include Cleveland, Cincinnati and Columbus, voters were struck from the rolls in Democratic-leaning neighborhoods at roughly twice the rate as in Republican neighborhoods under the policy."
But Tom Fitton, president of the conservative group Judicial Watch, said in a statement that "the citizens of Ohio may yet see their right to clean and fair elections upheld. Clearly, dirty election rolls can mean dirty elections. We hope that the Supreme Court will reverse the 6th Circuit decision and allow Ohio to more easily remove ineligible names from its voter registration lists."
Ohio isn't the the only state where large-scale voter-roll purges have grabbed headlines.
In April, the watchdog group Let America Vote filed a Freedom of Information request for details on the deactivation of more than 480,000 voter registrations by the state of Indiana. The voter-rights group said the scale of the deactivations raised the question of whether anyone had been disenfranchised. The Indiana Election Division said its cleanup was simply in keeping with state law.
And there was an outcry in New York in 2016 after the city Board of Elections confirmed that about 126,000 Democratic registrants had been dropped from the rolls in what officials called an overdue update just before Hillary Clinton and Brooklyn native Bernie Sanders faced off in a presidential primary.
Douglas Kellner, a Democratic commissioner of New York State's bipartisan Board of Elections, said in an interview Wednesday that yes, states should be diligent in updating their rolls so, for example, people can't vote from an address where they don't actually live.
But Kellner said Ohio's system may have a disproportionate effect on certain groups, such as city dwellers who may miss warnings about their registration status because of something as quotidian as poor mail service.
The Ohio case brings fresh attention to questions of voter rights and possible suppression even as President Donald Trump — who has claimed the 2016 election he won was fraught with fraud by Democrats, although he's presented no evidence of that — has charged Vice President Mike Pence with heading a commission to study the integrity of the U.S. election system.
If Ohio wins at the Supreme Court level, Kellner said, it could set a precedent that other states could employ to set up similarly strict systems that punish citizens for missing even a single election.
"What it means is this group of voters, who is highly mobile and not as well motivated as other voters, will be disenfranchised," he said. "How many that is, I don't know."