9 of the best gossip moments from 'Watch What Happens Live With Andy Cohen'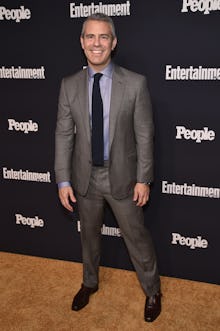 Since its debut in 2009, Watch What Happens Live With Andy Cohen has become the ultimate destination for celebrity gossip.
Cohen has had A-list celebrities in his clubhouse, including everyone from Oprah to Kim Kardashian West. The host never holds back when it comes to the type of questions he asks, which are usually gossip-related. With games like "Plead the Fifth," WWHL is unlike any other late night show on TV.
Maybe it's because the alcohol is flowing while the guests are answering Cohen's questions, but the show has become an open space for spilling tea and dishing dirt. Below are nine of Cohen's most titillating celebrity gossip moments to happen on the series.
1. Nene Leakes vs. Kim Zolciak
One of the show's earliest and most iconic moments is Nene Leakes' fight with Kim Zolciak. It was a moment that set the tone of the show: This wasn't your typical late night setting. As the women dragged each other on television, calling each other names and taunting one another, it became clear Cohen's show allowed for drama.
2. Kim Kardashian West on Taylor Swift
Few hosts would go where Cohen goes. After an audience member asked if it was awkward between Kim Kardashian West and her sister Kendall Jenner after Kim exposed Taylor Swift on Snapchat, Cohen pried into her relationship with the singer.
Cohen followed that up by asking if West had spoken to Swift since. West just shook her head and her expression said it all.
3. Patti LuPone on Madonna
In the era of the Kardashians, there is nothing quite like old-school Hollywood gossip. When Patti LuPone stopped by WWHL, Cohen asked her what her thoughts were on Madonna's portrayal of Eva Perón in the 1996 film Evita. Her response? "I thought it was a piece of shit." Case closed.
4. Mariah Carey on everyone
Not only did Cohen manage to get the elusive chanteuse Mariah Carey to stop by the clubhouse, he also played a game of "Does! She! Know! Her!" with the pop singer.
Carey once famously said she didn't know who Jennifer Lopez was. Playing on the legendary rivalry between Carey and Lopez, Cohen asked his guest if she knows other singers like Lady Gaga and Britney Spears.
In typical Carey fashion, her answers were everything, darling. In fact, she even had something nice to say: "I love Britney!" Carey said. Does she know Ariana Grande? "No," Carey said sternly. Some things never change.
5. Jenna Dewan Tatum confirms the Britney Spears and Justin Timberlake dance-off never happened
It has been rumored forever that when Justin Timberlake and Britney Spears broke up, they had a dance-off in a club. It's a memorable piece of gossip that was even documented in Britney Ever After, the Britney Spears Lifetime movie.
Unfortunately, Jenna Dewan Tatum, who was a backup dancer for Timberlake, shut down that rumor during her appearance on WWHL. "I really wish I could say it happened, but no, it never happened," she said. She did, however, reveal she did date Timberlake for a hot second.
6. Jennifer Lawrence has nicknames for celebrities she doesn't like
During Jennifer Lawrence's visit to the show, Cohen played a game of "Shush You BFF Lush!" The actress' best friend, Laura Simpson, was the bartender for the episode, and Cohen asked her questions about her famous bestie.
The questions ranged from which actor Lawrence refuses to ever do a movie with, and the meanest thing she's ever said about a celebrity. Simpson didn't expose anyone in particular, but she did reveal the nicknames of select celebrities they aren't fans of. The nicknames included: the raging lady, the lady in red and the lady in waiting. Hopefully Cohen follows up on this during their next interview.
7. RuPaul's favorite RuPaul's Drag Race lip sync
Cohen asked RuPaul the question any RuPaul's Drag Race fan would ask: What's your favorite lip sync that's ever happened on the show? "Special to my heart, you know, some of the girls did Martha Wash's 'Carry On,'" RuPaul revealed. The lip sync meant a lot to Ru, because the song itself reminds him of his late mother.
8. Boy George and George Michael's feud
When Boy George stopped by the show, Cohen asked the singer about his rivalry and friendship with the late George Michael. Boy George was forthcoming about their issues and their relationship — and revealed the two had actually become good friends.
9. Oprah Winfrey on Oprah Winfrey
Leave it to Cohen to show Oprah Winfrey her best and worst moments from her talk show days. Cohen didn't waste any time with the TV icon, asking her about her memorable interview with Whitney Houston, and that time she didn't know the words to Mariah Carey's "We Belong Together."
Mic has ongoing TV coverage. Please follow our main TV hub here.