'Overwatch' Horizon Lunar Colony: New map revealed and available on PTR with update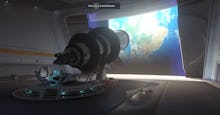 Overwatch's new map, Horizon Lunar Colony, is launching soon, according to the official Overwatch Twitter account. The new map was teased Tuesday in an article from the in-universe Atlas News. The new Overwatch Assault map takes place in the home of the bioengineered gorilla Winston. Horizon Lunar Colony will let you explore Winston's home and will likely reveal more of the lore behind the character.
Overwatch new map: How to play on Horizon Lunar Colony
Horizon Lunar Colony hasn't been released on the main Overwatch servers yet, but you can still give it a try. The map is currently available on the Overwatch Public Test Realm server where all of the game's updates get thoroughly tested before hitting the central servers.
To access the Overwatch PTR and play the new map, you must do the following:
•Install Overwatch
•Restart the Battle.net/Blizzard desktop app
•Select Overwatch in the left menu
•From the "Region/Account" dropdown, choose PTR
•Select "Install"
•Once the PTR client has installed, you can start the game as usual.
Keep in mind, when playing on the Overwatch Public Test Realm, any progress you make will not sync with your main account. If you don't want to put gameplay time in without your progress being saved, then you'll have to wait another week or so until the new Horizon Lunar Colony makes it to the primary Overwatch servers.