'Super Smash Flash 2' online: This fan-made 'Super Smash Bros.' flash game even has unlockables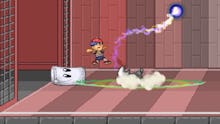 The Super Smash Bros. release date for Switch remains a mystery. We may not even get a proper launch window at E3 this year. New Smash Bros. characters may arrive with the release of the game on Switch, but until then the Wii U game's roster remains frozen in time. That's where fans step in: Actual Smash Bros. may not see updates anymore, but Super Smash Flash is bringing new characters along with its sequel. Some of which we may never see come to the official game.
While you wait for Super Smash Bros. on Switch, Super Smash Flash 2 is adding in characters
If you're dying to play before then, Super Smash Flash 2 is available to play in beta right now here.
The full trailer gives us a glimpse into the characters that will make their way to this iteration of Super Smash Flash. Featured in the trailer are anime characters like Goku of Dragon Ball Z, Naruto and Ichigo from Bleach along with video game characters like Sora from Kingdom Hearts, as well as missing image credit in Bomberman and Tails from Sonic. Even characters from actual Smash Bros. that aren't usable can be used here, like the punching bag from Homerun Contest.
The game features series regulars like Mario, Captain Falcon and even new additions to the Smash games like Mega Man and Sonic. Check out the Super Smash Flash trailer below.
Will we see Super Smash Bros. for the Nintendo Switch?
Considering games like Mario Kart 8 and Splatoon have made their way to the Switch in the form of Mario Kart 8 Deluxe and Splatoon 2, we could very well see Super Smash Bros. arrive on the Switch as Super Smash Bros. 4, 2 Deluxe Ultra. Or something to that effect.
There's a great chance that Smash Bros. will come to the Switch, but few know when exactly we'll get the game. In the meantime, there's always the Super Smash Flash 2 to keep you busy.
June 1, 2017, 1:22 p.m.: This story has been updated to clarify details about Super Smash Flash 2's release date. The trailer advertises the beta version that is currently out.
Check out more Super Smash Bros. coverage
Learn more about Super Smash Bros 4 on the Nintendo Switch, including Nintendo's president confirming the game, what the new amiibo could mean for the series and why you may have to wait until 2018. Here's why we could see new characters added to the roster (yes, including Rayman) and all the other games like Smash Bros that Nintendo hasn't confirmed that we can probably expect.