Here's how 'Orange Is the New Black' season 5 handles that Daya cliffhanger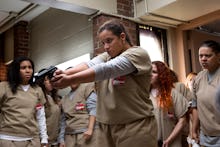 In one of the most tantalizing cliffhangers in recent TV history, the fourth season of Orange Is the New Black left fans with the sight of inmate Daya pointing a gun at sociopathic prison guard Humphrey. For the past year, that's offered a few suggestions on what could've happened. Did she pull the trigger, killing him? Will Daya hand over the gun to another willing inmate? Heck, will nobody get shot?
Now, with season five having been released on Netflix, we finally know what happened with Daya and Humphrey — and what this means for the series' future.
(Editor's note: Spoilers for the Orange Is the New Black season five premiere ahead).
After Daya initially fires a warning shot at the ceiling to quiet everyone down (the shelling actually hits another inmate's eye), Humphrey tries to reason with her by humanizing himself. He tells a story about his childhood in Spanish, before Daya shoots him in the leg — alas, she doesn't speak Spanish!
The ensuing chaos leads some inmates to question whether they ought to finish him off, while the other guards are fed a false narrative that Humphrey is going "full Columbine" at Litchfield using fellow guard McCullough's walkie talkie. As Humphrey is bleeding out on the ground, Ramos begins kicking him. If you remember, she dealt with the brunt of Humphrey's sociopathic tendencies — he forced her to eat a dead mouse in a fucked up game of Would You Rather last season.
It's Gloria who eventually tries to convince the other inmates to save Humphrey, and get Daya to give up the gun (she refuses). At the same time, Maria begins riling everyone up for the prison uprising, intent on using the gun to rally up the guards as hostages, though that would mean keeping Humphrey alive.
The near-unanimous agreement on saving Humphrey leads to the inmates taking him to Sophia, who's perhaps best equipped to deal with a gunshot wound since she used to be a fireman. Humphrey is conscious enough to freak out when one inmate asks her, "Would bleach work as a disinfectant?" As one should.
He's stable enough to make it down to Litchfield's clinic, which only has one nurse on duty. But Sophia offers to help patch Humphrey up. In a twisted piece of irony, Humphrey's left to recover in between Suzanne — aka "Crazy Eyes" — and Maureen, who he convinced to fight Suzanne back in season four.
The ripple effect of Daya's gunshot reverberates across Litchfield. Inmates hole themselves up in the appropriate areas (Boo and Pennsatucky definitely win out by locking themselves up in the commissary with a shitload of snacks), while others begin rounding up the guards as hostages. Warden Caputo isn't immune to this either, once Taystee and co. make their way to his office following his tepid press conference on Poussey's death.
In short: The inmates have taken over. The decompressed new season will take place over a few days, so for this year at least, we're probably looking at an inmate-controlled Litchfield. But all of this wouldn't have happened without Daya grabbing the gun at the end of season four. Now that she's pulled the trigger in season five, there's no turning back.
The fifth season of Orange Is the New Black is currently streaming on Netflix.
Mic has ongoing coverage of Orange Is the New Black. Follow our main OITNB hub here.