Where chef Dominique Crenn goes to dine al fresco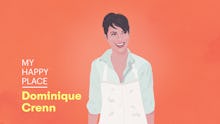 In My Happy Place, we talk to some of our favorite people about their emotional connection with an unforgettable destination.
French chef Dominique Crenn runs the two-Michelin-starred Atelier Crenn in San Francisco. Known as one of the best chefs in the world, the mother of two, who has stood out as a feminist champion as of late, relishes her downtime when she gets it. We spoke to Crenn during a quick break from the kitchen at Red Rooster, where she was preparing a meal with Mission Chinese Food's chef Angela Dimayuga at the Harlem Eat Up Festival.
"Two years ago, I bought a house in the Basque County in the Bayonne area, which is about an hour from San Sebastian and 40 minutes from Biarritz," Crenn said. "My house is this oasis looking over the Pyrénées and it makes me happy when I can go there, about three times a year. I'll go when I visit my mother, who lives in Brittany."
"I love doing nothing there, just listening to the birds singing and making some barbecue outside and maybe doing a dip in the swimming pool. At night, I love sitting by the fire. I'll have a nice glass of rosé and nothing's going on around me. I love it."
"At my dream dinner party, I would love to have Nina Simone here because I love Nina Simone. Maybe I'd also invite Mother Theresa. The Dalai Lama also. Maybe some politics figures also. I would never invite someone who I don't respect. But Nina Simone would be the first one, I wish I could be like, 'Hey Nina, come over.' She's my idol. The documentary on her was very powerful, I believe you can be an artist and you don't have to be that darkness, but she was a genius."
"When I can't make it out to France, I like to take a drive up to Sonoma and go and relax in a place where nobody's bothering me. There's no phone connection, so that's good. Sonoma is beautiful. The sunrise, sunset, everything."
"We build a fire outside and cook vegetables and whatever's available from the farm nearby, invite a lot of people over at night and serve a lot of wine and it's just beautiful. It's really just being outdoors."
"Does food taste better outdoors? I think so. It's more connected to nature."