$15 minimum wage bill passes Illinois House and Senate, heads to Gov. Rauner's desk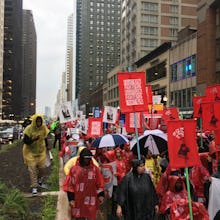 A bill that would gradually raise the minimum wage from $8.25 to $15 an hour in Illinois is headed to Gov. Bruce Rauner's desk.
SB81, which would increase the state's minimum wage incrementally over the course of five years, passed the Illinois Senate Wednesday in a 30-23 vote.
The Senate vote came a day after the Illinois House of Representatives approved the bill 61-53.
"People working full time should earn a living wage," state Sen. Kimberly Lightford, a Senate sponsor of the bill, said in a statement. "We want our workers to be able to support their families, have financial independence and be able to contribute to the state's economy."
The bill passed the House and Senate a week after more than 1,000 Fight for $15 protesters and their supporters called for a higher wage and union rights in the March on McDonald's in Chicago. Hundreds also demonstrated outside the annual McDonald's shareholders meeting at the company's headquarters in suburban Oak Brook, Illinois, the next day.
Supporters of the bill and labor activists celebrated the bill's passage through the Illinois legislature Wednesday.
"We've sent a very clear and powerful message to the 2.3 million people in Illinois making poverty wages: we stand with you," state Rep. Will Guzzardi, who sponsored the bill in the House, said in an email interview Thursday. "We believe your work is valuable. We believe you deserve a dignified and decent life."
Rauner, a Republican, seems likely to veto the bill, Crain's Chicago Business reported Tuesday. However, according to Crain's, the governor's office indicated he may support the wage hike if it does not place a "burden on businesses" in the state.
"The governor will carefully review any legislation that reaches his desk," a spokesperson told Crain's. "Gov. Rauner has advocated for increasing the minimum wage as long as other structural reforms are in place to bring down the regulatory burden on businesses."
Guzzardi told Mic that Rauner has an opportunity to show if he stands with the "hard-working people of this state, or their CEOs."
"I'm hopeful that he'll listen to the will of the people and sign this bill," Guzzardi said. "If not, we'll make sure he remembers it in 2018."
June 1, 2017, 11:34 a.m. Eastern: This story has been updated.