Sean Hannity promises to "not stop investigating" Seth Rich conspiracy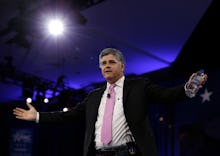 Conservative Fox News host Sean Hannity returned from vacation promising he would continue looking into a debunked conspiracy theory about the death of a former Democratic National Committee staffer.
On his Tuesday night program, Hannity didn't mention Seth Rich — the DNC staffer whose death in July was the subject of a series of right-wing conspiracy theories — by name. But he referenced the prevailing conspiracy theory in the opening segment of his show, in which he slammed the left for its coverage of the ongoing investigations into ties between members of Donald Trump's presidential campaign and Russian officials.
"I was asked by the family of the DNC staffer that was killed in July to pull back covering the story of the death because their son and their family was hurting," Hannity said at the beginning of his show. "Out of respect for the family's wishes, well, I decided for the time being not to discuss it unless there were further developments. But I also promised you, my audience, my loyal audience, that I will not stop investigating, I will not stop asking questions."
The conspiracy theory that Hannity has supported on his program suggests that Rich provided emails from the DNC to WikiLeaks prior to his death in July 2016, that he was murdered because of it and that Washington police are now engaged in an elaborate coverup to protect the murderers. Versions of the story have been circling on right-wing fringe sites for months without any evidence, but the story was reignited when Fox News published an article citing evidence supporting the theory. That story, however, quickly fell apart under scrutiny from other news outlets, and Fox was forced to retract the article a week after its publication.
Hannity was one of the biggest promoters of the story at Fox News, devoting nightly segments to the now-debunked article even as Rich's family wrote a letter to his producer and authored a Washington Post column begging for Hannity and others to stop politicizing Rich's death.
But his devotion to the theory prompted several progressive groups and individuals to call for advertisers on Hannity's show to remove their advertisements or risk facing a boycott. The effort prompted a handful of companies to pull their advertising from the conservative program as Hannity left the network for an extended Memorial Day vacation. But by Tuesday, USAA, a financial services company that had initially pulled its advertising due to a company policy forbidding it from running ads on political shows, backtracked and reinstated its ads.
Now Hannity, who has for years denounced advertiser boycotts, is supporting one. On his show Tuesday, he threw his support behind an effort to get advertisers to leave Rachel Maddow's show on MSNBC.
The conservative group Hannity is supporting is called Media Equalizers, and it has published a list of the names and contact information for companies who advertise on Maddow's program. It's a similar tactic that the liberal watchdog group Media Matters employed against Hannity — although Media Matters did not publish advertisers' contact information — and the tactic has been used to initiate advertiser boycotts against several controversial conservative personalities.
Hannity insisted on his Tuesday program that Media Equalizers is not encouraging a boycott, but is just doing what Media Matters did to him. According to CNN, he said on his Tuesday radio show (over which Fox News does not have editorial control) that "the left" left him no other choice but to "fight fire with fire."
"I am against boycotts, because it's only an effort to silence speech you don't like," Hannity added on his television program. "But it's gotten to the point where freedom of speech in this country is in real jeopardy."
On Tuesday afternoon, Hannity tweeted a link to an article about a similar advertiser boycott launched by the conservative Media Research Center targeting Maddow's program and nine other cable programs.
The choice of an adversary is interesting insomuch as Maddow is not Hannity's direct competitor. Her MSNBC show runs an hour before Hannity's program airs — one could theoretically watch Maddow at 9 p.m. Eastern and then turn the channel to catch Hannity at 10 p.m.
But her show is one of the reasons why MSNBC's ratings surged in May. Amid a flurry of negative press for the White House, Maddow has consistently beat out her competitors as the highest-rated cable show host.
Mic has begun contacting Maddow's advertisers for comment as to whether they have received requests to pull advertisements, and whether they have changed their advertising on the program. Mic asked Hannity's advertisers the same thing when the Hanntiy advertiser boycott was announced last week.
Requests for comment to Fox News and MSNBC were not immediately returned.