The Hawaiian hideaway where 'Top Chef' star Sheldon Simeon swims and forages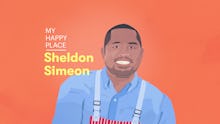 In My Happy Place, we talk to some of our favorite people about their emotional connection with an unforgettable destination.
Top Chef contestant Sheldon Simeon, who competed in seasons 10 and 14, was born and raised on the island of Hawaii — also known as the Big Island. For the past 15 years, he's lived in Maui (where he has a restaurant, Tin Roof) but he goes back to the Big Island as often as he can. The one place that holds the most memories is the Hakalau Gulch on the Big Island's Hamakua coast. This is the same area where his grandparents and father grew up; Simeon returns there to go swimming, fishing and foraging for fiddlehead fern shoots.
In a phone interview, Simeon shared his memories of returning with his children and the dish he creates from the fiddlehead fern shoots — one that always reminds him of home.
"After the first time I competed on Top Chef, I came back to the Big Island and took my daughters to the Halakau gulch. Seeing my kids swim in the tide pool where I used to swim was pretty rad."
"The gulch is about a 25-minute drive out of Hilo, the main town on the east side of the Big Island, and the further you go out of Hilo, the greener it gets. To get there, you drive though an old plantation village with run-down old buildings. As you look down into the valley, the first thing that grabs you is the size of the bridge. What's crazy right now is that they've closed the bridge for repairs because it's deteriorating and not safe. It was built many years ago, and they're redoing it. I have a lot of photos of the bridge, and it's going to be a memory of the past after this year."
"On the drive, you'll see wild guava droppings and mangos scattered all over the ground — you can tell what season it is by what's littering the ground. There's a point where you have to cross the water to get to the other side, and that was my favorite part as a kid. The river actually goes over the road, and I got a kick out of getting to drive through the river. You can stop at the river or continue to drive through to the mouth, where it opens up to a lava rock beach and bay. The river meets the ocean with high cliffs and waves crashing along the side. It's a magical place."
"Whenever we have parties or any gatherings at our house, we always go to the gulch and pick fiddlehead fern shoots. We make a salad — they're simply blanched in salted water, and then chilled. Then we toss them with sweet onions, a little bit of dried shrimp, maybe some fish cake and tomatoes."
"To this day, I still make this salad. Here in Hawaii, every single culture has their own name for fiddlehead fern shoots. The shoots are one of the most significant ingredients in my cuisine. I knew them as 'pako,' the Filipino word. But they're just as easily known as 'warabi,' which is the Japanese term, because of my Japanese neighbors and my dad's friends. And then we knew them as their Hawaiian name, 'ho'i'o.' They're also called 'pohole.' And the ingredients — Japanese fish cake, Filipino fish sauce, dried Hawaiian seaweed — it's all these different cultures coming together."
"Every single family in Hawaii has their own recipe, and every single family has their own fiddlehead fern patch. It just happens that my family's patch was in Hakalau gulch. My oldest daughter is now 10, and she's made the salad. All my kids will eat a whole bowl of it, from start to finish, if I don't stop them. At every single restaurant I've worked at or opened, there's been pohole served. I even served it at the James Beard House. That's how significant this dish is. Whenever I eat it it reminds me of Hakalau. The gulch has been part of my family for many generations, and will continue to be."