Al-Jazeera English posts and deletes infamous anti-Semitic caricature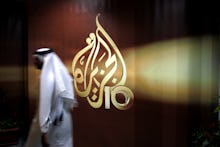 Qatari broadcaster Al-Jazeera posted, then deleted, an anti-Semitic image on one of its Twitter channels Wednesday while sharing a post on climate change denial.
The offending post went up on the broadcaster's main English-language Twitter account and featured an infamous caricature of a Jew accompanied by the caption "He, he, he, my global warming, uh, I mean, climate change scam is working out perfectly for our long term Talmudic plan of world domination!"
The image was part of a thread promoting content critical of climate change deniers. AJE told Mic via Twitter DM that one of the network's staffers accidentally copied and pasted a link to an anti-Semitic reply to their prior climate coverage, rather than the video they intended to include.
"When attempting to link to the 'Reality Check' video on climate deniers in a tweet, a producer inadvertently right-clicked on the reply tweet instead," AJE wrote. "In less than three minutes, we realized what had happened, took the tweet down and posted the correct video. So, human error led to the mistake."
The tweet has since been deleted and reposted with a video featuring AJE host Mehdi Hasan.
The crude caricature of a Jew shown in the image is one of the internet's most prominent anti-Semitic memes. Called the "Happy Merchant," the image first appeared alongside other racist drawings in the work of a white supremacist cartoonist named Nick Bougas, who published work under the pseudonym A. Wyatt Mann.
Enemies have regularly assailed Al-Jazeera with claims of anti-Semitism ever since it emerged as a critical voice during the U.S. invasion of Iraq in the 2000s, according to the American Journalism Review, though its English-language site is noticeably different in tone and viewpoint. U.S. conservative sites like Twitchy and Daily Caller immediately pounced on the tweet as evidence of latent anti-Semitism, or an attempt to smear climate change deniers, though that does not seem to have been the case.
June 1, 2017, 4:56 p.m. Eastern: This post has been updated.