Trump reportedly thinking about returning two of Russia's alleged spy compounds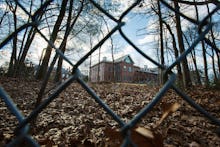 President Donald Trump's administration is reportedly mulling the return of two Russian diplomatic compounds the Kremlin is believed to have used in interference with the 2016 election.
The Washington Post reported Wednesday that the White House initially proposed an exchange in early April: The United States would potentially give Russia back its compounds — one near New York City and one in Maryland — if Russia would allow the U.S. to resume construction of its St. Petersburg consulate, halted in response to 2014 sanctions the U.S. issued over Ukraine.
According to the Post, the Trump administration changed its negotiating tack after just two days. Sources told the outlet that Secretary of State Rex Tillerson said, in a Washington, D.C., meeting with Russian Foreign Minister Sergei Lavrov and Ambassador Sergey Kislyak, that return of the compounds would not be contingent upon consulate construction.
R.C. Hammond, a senior adviser to Tillerson, told the Post that no agreements had been reached. Unnamed sources said that the administration is now weighing possibile restrictions on the compounds, including the removal of diplomatic immunity, which would allow U.S. authorities access.
For decades, Russia asserted that it used the compounds as luxury event spaces where U.N. officials and ambassadors could enjoy recreational activities and carouse in comfort, but according to the Post, the U.S. has long suspected the properties were actually spy sites.
Indeed, the compounds are currently vacant because President Barack Obama's administration believed they were "used by Russian personnel for intelligence-related purposes" in the election, as President Obama explained in a statement issued December 29 when he closed the buildings on 24 hours' notice. In the same statement, he declared 35 Russian intelligence agents "persona non grata," forcing them to leave the U.S.
Reversing Obama's policy and returning the compounds is a bold move for an administration mired in federal investigations into its many alleged ties to the Kremlin. On Wednesday, the House Intelligence Committee handed out seven new subpoenas — including one to former National Security Adviser Michael Flynn and to Trump's personal lawyer Michael Cohen — in its inquiry into Russia's possible election meddling. The FBI is looking into possible secret meetings between Kislyak and Attorney General Jeff Sessions during the campaign. Trump adviser Jared Kushner is currently under investigation for allegedly establishing a communications back channel with Russia.
All things considered, now does not seem like the best time to give back Russia's suspected espionage outposts. Foreign Minister Lavrov, according to the Post, is spinning the arrangement as the righting of a legal wrong.
"Everyone, in particular the Trump administration, is aware that those actions were illegal," Lavrov said in Moscow, citing the shuttering of the compounds. "The dialogue between Russia and the U.S. is now free from the ideology that characterized it under the Barack Obama administration."