'Super Mario Odyssey' Release Date Rumor: Nintendo Switch headline game may launch in November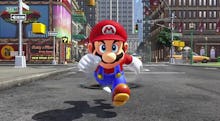 The Super Mario Odyssey release date is still unknown, but we may get the Nintendo Switch game earlier than planned. If the latest rumors are to be believed, Super Mario Odyssey could arrive earlier than the "holiday season 2017" we were promised.
Super Mario Odyssey release date: The game may arrive in November
According to Destructoid, the game could come alongside ramped up Nintendo Switch production. The upcoming platformer is rumored to release as early as November.
If true, a November release date for Super Mario Odyssey is good for a few reasons. Not only would the title be playable sooner, it opens up the possibilty of a bundle for the holidays. After having spent a month or so at full price, Nintendo could then offer a discounted price on the Switch console and game when purchased together. That would mesh together with ramped up Switch production taking place later this year.
We may not see a Super Mario Odyssey Switch bundle arrive before the holiday season, what with Nintendo's dedication to scarcity and maximizing profits. But with more stores having consoles to sell, at least playing the new Super Mario won't require an odyssey.
Check out more gaming news and coverage
Check out more video game content on Mic, including which Pokémon are actually the best and why black players can never seem to get custom characters that look like them. Learn more about how blind gamers are getting in on the fun and that Injustice 2 appears to be nerfing its female characters. See why we love Twintelle(and why we hate Twintelle) in the upcoming Arms, and don't miss our guide to dodging blue shells in the Mario Kart 8 Deluxe — you can thank us later.