'Diablo 3' Necromancer Release Date: Cinematic intro for male and female version revealed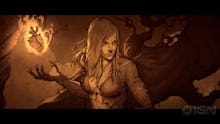 Diablo 3 players have been holding their collective breath for news of the upcoming Necromancer class's release date. It's been in invite-only beta testing for weeks now, so it has to be coming soon, right?
Unfortunately, we still don't have a specific release date. But IGN got the scoop on the story intro cutscenes for the Necromancer.
Blizzard releases male and female Necromancer intro cutscenes
Blizzard is folding the Necromancer into the Diablo 3 story as if they'd been there all along, just like they did with the Crusader in the "Reaper of Souls" expansion. As such, when you start a new game as a Necromancer, you'll get a fun little cutscene where your character explains their whole deal. The male and female versions are identical except for the voice of the narration.
There's nothing revealing or scandalous about it. The Necromancer acknowledges that the balance between life and death is precious and they're going to protect it. It's cool when they raise the dead, but when the dead raise themselves? No way. We have to intervene.
Unfortunately, there is still no information on when the Necromancer is coming to Diablo 3. This forum poster speculated that maybe it would coincide with the start of season 11 in July. Since it's been in public testing for several weeks now, it's entirely likely the Necromancer will get patched into the game one day with little advance notice. All we know is that it will be this year sometime.
More video game news and coverage
Check out more video game content on Mic, including which Pokémon are actually the best and why black players can never seem to get custom characters that look like them. Learn more about how blind gamers are getting in on the fun and why Injustice 2 is nerfing its female characters. See why we love Twintelle (and why we hate Twintelle) in the upcoming Arms, and don't miss our guide to dodging blue shells in the Mario Kart 8 Deluxe — you can thank us later.