Joe Biden launches PAC, fueling rumors of a 2020 White House run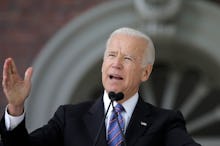 Former Vice President Joe Biden announced Thursday the launch of a political action committee, stirring speculation he may attempt to challenge Donald Trump for the presidency in 2020.
"Thinking big is stamped into the DNA of the American soul," Biden wrote in a Medium post announcing the American Possibilities PAC. "That's why the negativity, the pettiness, the small-mindedness of our politics today drives me crazy. It's not who we are."
The PAC will "help elect folks who believe" in "big dreams and American possibilities," Biden wrote, as well as "groups and causes that embody that spirit."
"That is what's great about America. Possibilities," Biden wrote. "If we ever lose that we will lose the soul of this nation."
The announcement has been seen as a possible indicator the former vice president is considering a 2020 presidential campaign.
Biden, in an appearance in April at a Democratic fundraising dinner in New Hampshire, told a crowd he is not planning on mounting a third run for president.
But in May, Biden appeared to leave the possibility of a 2020 bid open, telling the attendees at a Las Vegas hedge fund conference that he "may very well do it."
Biden appears to poll the best of any Democrat against Trump in 2020, a Public Policy Polling report found in May. In a hypothetical matchup against Trump, the poll found Biden had a 54-40 advantage.
Biden has been a vocal critic of Trump both during and after the 2016 election.
In his commencement address Saturday at Cornell University, Biden said Trump had "churned up some of the ugliest realities that still remain in our country" during the campaign.
"The American people will not sustain this attitude for long," Biden said at Cornell. "It's more important than ever that we get back to basics, that we hold fast to what has always made America great and unique ... that every single person is entitled to be treated with dignity and respect."
Jill Biden, in an appearance Thursday on CBS' This Morning, said her husband set up the PAC to be involved in the 2018 midterm elections and that he plans on remaining involved in politics.
"Joe is not going away and you know that," she said.