The mayor of Austin had the best response to this man's sexist letter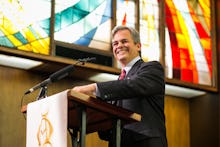 The city of Austin, Texas, has become the target of a swarm of angry men upset by the prospect of women-only screenings of Wonder Woman at the Austin-based theater chain Alamo Drafthouse. One of those angry men reached out to Austin Mayor Steve Adler with his complaints — and Adler had the best response.
Adler posted both the sexist letter and his response on his website on Thursday. The letter writer, who identified himself as Richard A. Ameduri, wrote to let the mayor know that he was calling for a male boycott of the entire city of Austin, and railed against women as a "second-rate gender."
I hope every man will boycott Austin and do what he can to diminish Austin and to cause damage to the city's image. The theater that pandered to the sexism typical of women will, I hope, regret it's decision. The notion of a woman hero is a fine example of women's eagerness to accept the appearance of achievement without actual achievement. Women learn from an early age to value makeup, that it's OK to pretend that you are greater than you actually are. Women pretend they do not know that only men serve in combat because they are content to have an easier ride. Women gladly accept gold medals at the Olympics for coming in 10th and competing only against the second class of athletes. Name something invented by a woman!
Even though the letter-writer helpfully advised Adler not to respond, Adler wrote back, politely informing Ameduri that, not only do women serve in combat units and invent cool stuff — it's also the right of a private business to host a women-only screening of a film. Oh, and Austin is a city that welcomes everyone, the mayor was quick to point out.
Dear Mr. Ameduri,
Now that's how you tell off a sexist troll.