Taylor Swift has small win in lawsuit against Denver DJ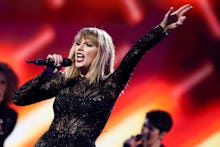 In the case between Taylor Swift and radio DJ David Mueller, Swift just nabbed a small win.
On Wednesday, the judge dismissed Mueller's slander charge against Swift.
According to Us Weekly, the judge dismissed Mueller's claim because the statute of limitations had run out. The rest of the case will continue on as scheduled.
The incident in question occurred at a Denver meet-and-greet with the singer in June 2013. Swift alleged that Mueller touched her inappropriately during their interaction.
"And so then we get in a photo formation with me in the middle, and that's when right as the moment came for us to pose for the photo, he took his hand and put it up my dress and grabbed onto my ass cheek, and no matter how much I scooted over it was still there," Swift said in her deposition when recounting the incident. "It was completely intentional, and I have never been so sure of anything in my life."
Mueller was fired from his job at KYGO radio station as a result. He ended up suing Swift over the loss of his job and harming his reputation. In turn, Swift countersued him for assault and battery.
Swift and Mueller are required to be in attendance for the duration of the trial, which is set to take place in Colorado. Proceedings begin on Aug. 7.
Mic has ongoing music coverage. Please follow our main music hub here.